Hey FCC, Comcast-TWC merger is bad news for Netflix, says Netflix
Combined giants would fleece lowly video streamers, claims not-so-lowly video streamer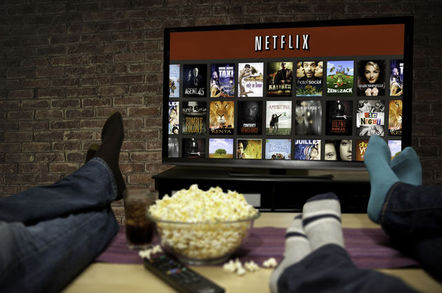 Netflix has formally petitioned the US Federal Communications Commission (FCC) to block the proposed $42.5bn tie-up between US cable giants Comcast and Time Warner Cable (TWC).
The web vid upstart provided the FCC with a 256-page petition [PDF] outlining its feelings on the matter and making the case for the watchdog to shoot down the deal.
"The proposed merger of Comcast and TWC presents serious public interest harms stemming from the combined entity's increased ability and incentive to harm providers of Internet content," Netflix said in its petition to the FCC, on a summary on page 99.
"The public interest harm cannot be balanced by any cognizable public interest benefit in this transaction."
According to Netflix, the deal would give Comcast far too much power in the market, and further limit consumer choice – particularly in the broadband internet space. With little competition to be had, the streaming video firm argues that Comcast will be able to further wring connectivity fees from it and other streaming media companies.
"There is little to suggest that a massive increase in size would reverse this trajectory," Netflix writes in its argument.
"Consumers are as likely as not to be left paying more money, for the same service, with few meaningful alternatives."
It's no secret that Netflix is less than enthusiastic about the proposed deal. Back in April CEO Reed Hastings warned investors that "unprecedented fees" could be in store should Comcast and TWC close out their deal.
The filing comes as the FCC continues to mull whether or not it will give approval for the deal to go forward. Regulators last week asked the two companies to provide them with detailed maps and tables about their respective coverage areas. ®
Sponsored: Becoming a Pragmatic Security Leader