EOS, Lockheed to track space junk from Oz
WA facility gets laser-eyes out of the fog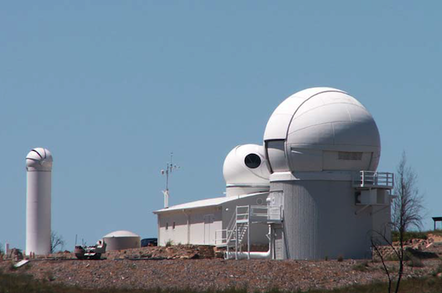 EOS Space Systems and Lockheed have struck a deal to jointly develop a space junk tracking centre in Western Australia.
Having a second tracking centre (in addition to its existing facility at Mount Stromlo in the ACT) will significantly improve EOS Space Systems' coverage, the company says, since its activities won't be subject to the weather in one location.
As boss Dr Ben Greene told the Australian Broadcasting Corporation, the 3,000 km separation of the two facilities means "we'll actually have a very high probability of having eyes on space all the time now".
The deal represents the company's first move from research to rollout. In its stock exchange announcement (PDF) it notes that additional sites and new sensors are also under consideration.
When the WA facility is operational, EOS Space Systems says it will "provide a space debris tracking capacity equal to 25% of all capacity presently accessible to space industry globally, and with enhanced accuracy".
It will form the basis of services the two companies will provide to the space industry, to help plan launches that avoid existing space debris.
Greene told the ABC his company's work has brought down the cost of space junk tracking to a point where "the cost of deploying and operating a significant amount of infrastructure is actually affordable compared to the actuarial calculation of risk".
As well as tracking space junk, EOS Space Systems hops its work on lasers will one day allow it to move the junk as well. ®
Sponsored: Becoming a Pragmatic Security Leader