HUGE iPAD? Maybe. HUGE ADVERTS? That's for SURE
Noo! Hand not big enough! Don't look at meee!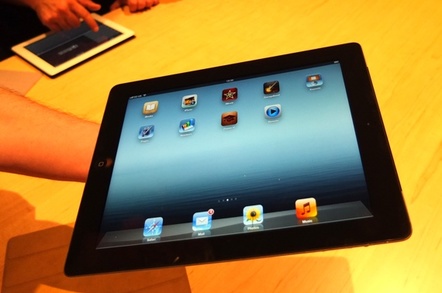 Apple is preparing to turn its relatively humble fondleslab into a monster hand advertising billboard.
The fruity firm has opened up its new iAd platform to developers, giving them the ability to show full-screen adverts on the iPhone, iPad and any future devices that use Apple's iOS.
These imposing corporate messages could prove to be bigger than any ever seen on an Apple mobile device, if rumours that Cupertino is designing a 12.9-inch fondleslab turn out to be true.
"Now you can deliver highly engaging ads from leading brands. Optimized for your app, pre-roll video and full-screen interstitial banner ads are now available on iOS," Apple announced.
Here are the sizes of advert available to fruity developers, which we've taken from a document called Implementing iAds In Your iOS App.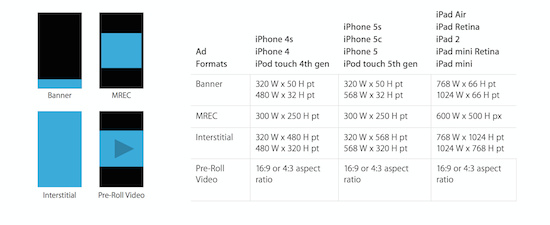 There is also some chance that the new fondleslab could employ Liquidmetal in some capacity.
Apple has been granted two new patents, one of which pertains to the act of "continuous amorphous feedstock skull melting".
Just like LiquidMetal itself, this patent sounds exciting but is really rather dull, involving the trapping and melting of metallic glass. The other patent is called "Optimized multi-stage inductive melting of amorphous alloys" and involves a similar process.
Previously, LiquidMetal has been used in – wait for it – a SIM card ejector, although it features in other patents.
Sadly, there is no word on whether Apple wants to build a shapeshifting robot in a bid to travel back in time and kill Arnold Schwarzenegger (if we're remembering the plot of Terminator 2 correctly). But hey, at least your SIM won't do an Arnie and say "I'll be back" when you really want it to stay inside your phone. ®