Euro space boffins narrow down lander sites on comet doing 135,000km/h toward Sun
Piece of cake, right?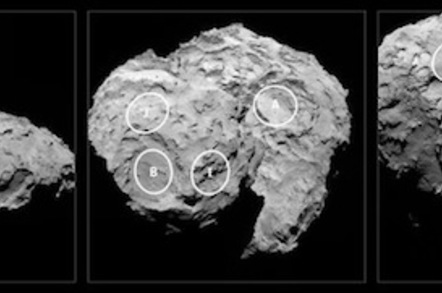 The European Space Agency has identified five possible sites where its Rosetta spacecraft could probe comet 67P/Churyumov-Gerasimenko.
Over the past twenty days, spent in the vicinity of the 3.5km by 4km rock, the craft has taken loads of photographs for the Rosetta team. The boffins have now picked the best places to drop the probe's 100 kg Philae lander on the comet in November.
Philae will take readings from the surface of the comet for the scientists. In this blog post, the agency explains the complexity of choosing a landing site:
"That site must balance the technical needs of the orbiter and lander during all phases of the separation, descent, and landing, and during operations on the surface with the scientific requirements of the 10 instruments on board Philae.
"It is only possible to specify any given landing zone in terms of an ellipse – covering up to one square kilometre – within which Philae might land".
Considerations include making sure Philae can maintain contact with its Rosetta mothership, and avoiding steep slopes and boulders. The landing site also needs to receive enough sunlight to charge the lander's batteries "beyond its initial 64-hour lifetime," but not so much as to cause overheating.

Take your pick: possible landing sites for Philae. Image: ESA
"The candidate sites that we want to follow up for further analysis are thought to be technically feasible on the basis of a preliminary analysis of flight dynamics and other key issues – for example they all provide at least six hours of daylight per comet rotation and offer some flat terrain," explained lander manager Stephan Ulamec.
The teams expects to settle on its favorite site (along with a backup) by September 14. Rosetta has travelled six billion kilometres to reach comet 67P/Churyumov-Gerasimenko, which is hurtling towards the Sun at 135,000 kilometres per hour. ®
Sponsored: Becoming a Pragmatic Security Leader