Docker's VMware tryst is about giving sysadmins the whip hand
The time has come to beat cloud upstarts into shape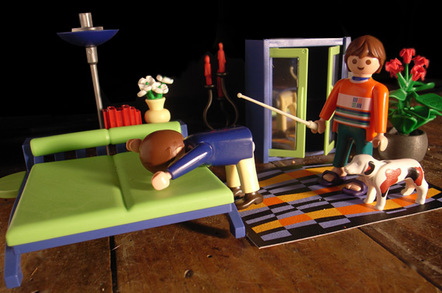 VMworld 2014 Docker's often been cast as an enfant terrible so talented that it makes mature predecessors suddenly look a bit old, slow and irrelevant.
What, then, to make of today's VMWorld news that it is now a VMware partner and will work with Virtzilla, Google and Pivotal to make Linux containers behave under vSphere and Cloud Foundry?
One interpretation could suggest the new alliances make Docker something of an ingenue, seduced by a wealthy and powerful senior in perhaps a slightly creepy way.
But after meeting Docker CEO Ben Golub, The Reg thinks it best to picture the company as a startlingly talented and beautiful youth that an older rival is wise enough to realise should be kept close so they can tap into their energy and the enthusiasm it generates.
Docker, in turn, knows that it needs to spend time in more mature company because people its own age often do silly things.
In the case of Docker, and cloud-struck developers in general, those things include creating containerised apps willy-nilly, shoving them into public clouds without much thought for the wider implications of doing so and paying the briefest lip service to things like security.
By working with VMware, Pivotal and Google, Docker gets the chance to show the world it can be just as serious as grown ups, but belongs in their company.
The multidimensional alliance it has struck works like this:
Docker and VMware will collaborate on enabling Docker Engine on VMware workflows from build to deploy for VMware vSphere to VMware vCloud Air;
Docker and VMware will collaborate on Docker-related open source projects libswarm, libcontainer and libchan;
Docker and VMware will jointly work on furthering areas of interoperability between their products including Docker Hub with VMware vCloud Air, VMware vCenter Server™ and VMware vCloud Automation Center™;
VMware has joined the Kubernetes community and will make Kubernetes' patterns, APIs and tools available to enterprises;
Google and VMware will work together to bring the pod based networking model of Open vSwitch to enable multi-cloud integration of Kubernetes;
VMware has contributed code to bring Kubernetes to VMware vSphere to make it easy for enterprises get started with container management; and,
VMware, Pivotal and Docker will collaborate on enhancing the Docker libcontainer project with capabilities from Warden, a Linux Container technology originally developed at VMware for Cloud Foundry.
Golub likes these new arrangements because, as he explained to The Reg, containers may perform at their very best on bare metal but to use them in anger they need the kind of grooming and training that VMware's control freakery does so well to virtual machines. Docker in a VMware environment is therefore good for Docker because it makes it more likely the company's technology will find a home in the enterprise.
As it happens, that theme was also a central part of Vmworld's opening keynote, during which VMware's head of hybrid cloud Bill Fathers quoted internal data showing that just six per cent of workloads run in public clouds today, up from two per cent in 2009. But things are accelerating fast, he said, largely because developers have turned to the public cloud for resources.
As has happened with Docker, the results of those efforts have often become important to their users, but have also often been deployed without the security and governance rigour that seasoned IT pros understand is necessary to actually run a business.
Fathers, VMware CEO Pat Gelsinger and COO Carl Eschenbach all said now is the time for IT pros know to bring their hard-headed pragmatism to ensure cloud is properly-managed. VMware's keen on hybrid cloud as the way to do that. Golub's thinking along similar lines, recognising that Docker will go further if it can show it is sysadmin-friendly and exciting to developers.
This VMworld may therefore represent something of a good week for sysadmins. Both silverback VMware and the shining youth it's decided to bring into the inner circle agree that IT pros – folks a lot like Reg readers – have a growing role to play in ensuring the promise of the cloud turns into a useful outcome.
The enfant terrible has, in other words, been told to listen to and respect its elders and betters.
And not before time. ®
Sponsored: Becoming a Pragmatic Security Leader