Silicon Valley jolted by magnitude 6.1 quake – its biggest in 25 years
Did the earth move for you at VMworld – oh, OK. It just did. A lot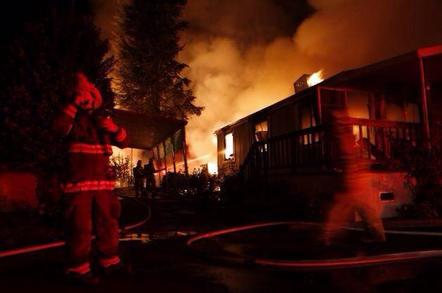 Pics A magnitude 6.1 earthquake shook northern Californians out of bed today at 3.20am, shutting down power and wrecking homes in the state's wine country.
The Sunday morning tremor was the biggest to hit the Bay Area since the destructive M6.9 quake in 1989. The epicenter of today's shallow quake was just a few miles from Napa, according to the US Geological Survey, which has warned of 30 to 70 small aftershocks measuring magnitude 3 to 5 over the coming week.
Napa Division Fire Chief John Callanan told Associated Press that two people were seriously hurt, and hospitals were treating numerous with minor injuries. By 6.30am, about 70 patients had been seen to, according to reports.
In the Napa and American Canyon area, some buildings partially collapsed or caught fire, shops were trashed, and at home, people's belongings were scattered and smashed by the quake. At least 30,000 homes were reportedly without power at one point; the Pacific Gas and Electric Company's outage page shows thousands of lines are still down in the Napa region.
"There's collapses, fires," Napa Fire Captain Doug Bridewell told AP. "That's the worst shaking I've ever been in."
Developing today: Major earthquake rocks Napa Valley. http://t.co/32ONOpJomj @SFGate pic.twitter.com/qdFDfT0KqW

— Jonathan Betz (@jebetz) August 24, 2014
PHOTO: Quake damage in #Napa at Ranch Market store. Photo by @FoxNews crew, photo Tom W & @ClaudiaCowan1 #napaquake pic.twitter.com/QclaTH4u0t

— Casey Stegall (@caseystegall) August 24, 2014
Further south in San Francisco, Berkeley and Oakland, where the quake's strength had been dampened, residents were rattled in their beds. Your humble hack felt it as a rolling rumble that grew until his apartment started shifting side to side – given buildings don't usually do that, it felt as if someone was trying to rewrite reality in the Matrix.
Crucially, it was the duration of the shake that was most unsettling: it lasted a good 30 seconds.
"A quake of that size in a populated area is of course widely felt throughout that region," Randy Baldwin, a geophysicist with the US Geological Survey, told AP.
"The 6.0 is a sizeable quake for this area. It's a shallow quake. It's about 6 miles deep."
Earthquake at @SilverOak pic.twitter.com/uSfHX2WzBk

— David Duncan (@DavidSilverOak) August 24, 2014
Bridges including the Golden Gate and Bay Bridge, and highways, are now being checked for damage, as is routine. Today's tremor is nowhere near the catastrophic magnitude 7.8 shock that hit in 1906 – although more than 100 years on, Californians are bracing themselves for the next Big One.
Today's quake comes as techies flood into San Francisco for VMworld 2014, giving virtualization geeks a fine introduction to the Bay Area. Despite all the counter-advertising surrounding the event, there is no suggestion any VMware rival sponsored today's terra shiver. ®
Bootnote
Napa Valley's winemakers say they have lost thousands of bottles and barrels of wine to the earthquake.
Sponsored: Becoming a Pragmatic Security Leader