Chinese hackers spied on investigators of Flight MH370 - report
Classified data on flight's disappearance pinched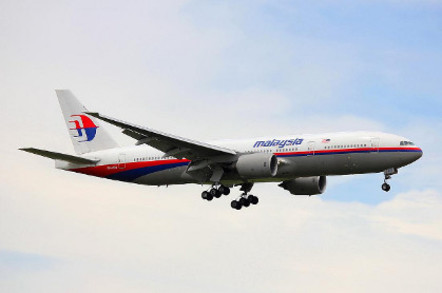 Malaysian officials investigating the disappearance of flight MH370 have been targeted in a hacking attack that resulted in the theft of classified material.
The malware-based hacking attack hit around 30 PCs assigned to officials in the Malaysia Airlines, the Civil Aviation Department and the National Security Council, a security firm working on the hack told Malaysian newspaper The Star.
The malware was hidden in a PDF attachment posing as a news article that was distributed on 9 March, just one day after the ill-fated Malaysian Airlines Boeing 777 disappeared en route from Kuala Lumpur to Beijing. The hoax news report falsely claimed the Malaysian Airlines jet had been found.
The infection was detected, but not before all manner of sensitive documents were siphoned off from compromised systems and channelled via email to an IP address in China. The methodology of the attacks matched those of so-called spear phishing assaults that are normally directed towards cyber-espionage and the theft of industrial secrets.
"Those email contained confidential data from the officials' computer, including minutes of meetings and classified documents," explained Amirudin Abdul Wahab, chief executive at CyberSecurity Malaysia, Singapore-based The Straits Times reports. "Some of these were related to the MH370 investigation."
"This was well-crafted malware that antivirus programs couldn't detect. It was a very sophisticated attack," Wahab added.
Abnormally high network loads and congested email servers prompted the affected agencies to call in the security firm for assistance.
The Malaysian government agency reckons the hack was directly related to the disappearance of MH370 and aimed at obtaining undisclosed or suppressed material related to the loss of the plane. MH370 had been carrying 239 people when it disappeared. CyberSecurity Malaysia is working with Interpol in investigating the security breach.
The Boeing 777 changed course shortly after leaving Malaysian airspace and is thought to have subsequently flown south over the Indian Ocean. A high-profile international operation based in Perth, Australia, in the weeks that followed failed to recover flight recorders, a crash site or even debris from the aircraft.
Malaysia's handling of the search for the plane was the focus of protests by Chinese families caught up in the tragedy – altogether 153 Chinese nationals were on board the missing plane. ®
Sponsored: How to Process, Wrangle, Analyze and Visualize your Data with Three Complementary Tools