TRIANGULAR orbits will help Rosetta to get up close with Comet 67P
Probe will be just 10km from Space Duck in October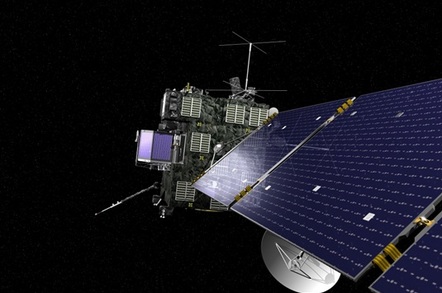 The European Space Agency (ESA) has revealed just how its Rosetta comet probe will close to within just 10km of comet 67P/Churyumov-Gerasimenko.
Rosetta arrived at the comet on August 6th and has since sent back lovely photos of the rock.
The mission plan calls for even better photos to become possible by bringing Rosetta closer to the comet.
Manoeuvres to do so have already commenced, with "burns" to adjust the probe's orbit having taken place on August 10th, 13th and 17th. Further burns scheduled for August 20th, 24th and 27th comprise part of the mission called "Close Approach Trajectory" (CAT) that are designed to change Rosetta's direction while also nestling in closer to 67P.
As the video below shows, the combined effect of the CAT burns and the "Transfer to Global Mapping" (TGM) manoeuvres in the mission's next phase will see Rosetta just 10km from 67P by October.
Between September 10th and October 7th, the craft will circle the comet at between 29km and 19km. It is hoped to keep Rosetta in view of the sun, so it can continue to gather solar energy and also take better shots of the comet in Sol's light.
Further orbital adjustments will mean 67P had better get ready for its close up, because by October 10th Rosetta will close to just 10km.
Observations recorded during this phase of the mission will play a part in selecting a landing site for Philae, the lander Rosetta has borne to 67P. ESA boffins are meeting this week to draw up a shortlist of five candidate touchdown zones.
Philae is due to touch down on November 11th.
A radio signal currently takes 22 minutes and 49 seconds to reach Rosetta, so when Philae touches down we'll all have to endure many nail-biting minutes before it is known if the craft made it down intact. ®
Sponsored: Webcast: Why you need managed detection and response