Things are looking up in Flappy Bird sequel
'Swing Copters' offers the same gameplay but in a different direction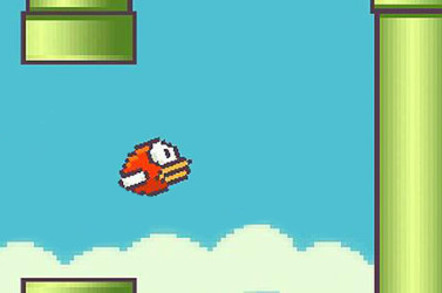 Game developer Dong Nguyen, the man behind Flappy Bird, has revealed the name and look of his next game.
"Swing Copters" is the new time-waster's moniker and the gameplay, as recorded by toucharcade, looks an awful lot like Flappy Bird turned 90 degrees to the left.
The one new element looks to be swinging hammers that mean the width of the aperture between obstacles varies. The swings therefore add an extra timing challenge to the game, leading reviewers suggest the game retains its predecessor's 'frustratingly hard at first but easier over time' qualities.
Nguyen probably has another hit on his hands, because despite the game's crude graphics, thin premise, simple gameplay and lack of extensibility, the game does stick very closely to the Flappy Bird template.
Perhaps Nguyen's next game will show a broader vision, although if Swing Copters sells like its predecessor he may have no need to think more expansively. ®
Sponsored: Webcast: Why you need managed detection and response