'Fangless' activist investor chomps up chunk of Rackspace
Blue Harbour thirsting to quaff some fresh asset sweat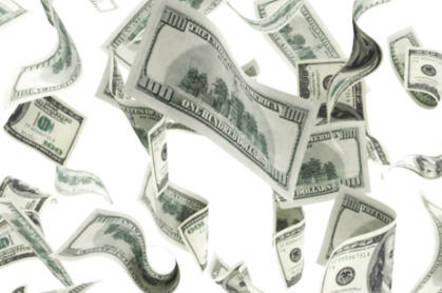 A so-called "fangless" activist investor has increased its grip on OpenStack cloud cheerleader Rackspace, with a view to a possible sale.
Blue Harbour Group has revealed it now holds a 6.4 per cent stake in the aspiring cloud provider, or 9.1 million shares.
The company is reported to have started gobbling up Rackspace shares in the first quarter of 2014.
In a statement, Blue Harbour managing director Todd Marcy said his company "looked forward to a constructive, on-going dialogue on the various alternatives Rackspace has to unlock and deliver meaningful shareholder value."
"Shareholder value" is a boilerplate phrase chucked out by all such activist investors. It means getting a better return from their holding. Six per cent is a sizeable stake for any one holder to own in a public company and Blue Harbour will now try to get some leverage from this.
Those alternatives might mean Rackspace continuing as an independent entity, or whatever emerges from the company's current strategic review. Rackpace said in May that it had hired Morgan Stanley to evaluate "inbound strategic proposals" for the company's long-term future. That could mean anything from partnerships to finding a prospective buyer.
The news comes despite record revenue for the company's second quarter – but flat profits. The company claims to be adding thousands of new customers.
Blue Harbour recently took a stake in Brocade Communications, after which the switch maker announced it was buying back $1bn in shares.
Blue Harbour is considered a "friendly" activist (PDF); that's in contrast to the likes of Southeastern Asset Management, which scooped up 22 per cent of Sun Microsystems' stock and ultimately drove the company into the arms of Larry Ellison's Oracle.
Rackspace is a web hosting company that seized on the OpenStack project with engineers from NASA in 2010 to float a Linux-for-the-cloud.
The idea was to build the bites and bytes that would let people build their own, non-AWS-based clouds. Yet despite the cloud hype, progress hasn't been smooth for either Rackspace or OpenStack. In the last year Rackspace lost its long-time chief executive Lanham Napier while growth in the strategically important public cloud services business slowed.
Building a cloud business has proved tough: Microsoft (with Azure), Amazon (with ECS) and Google (with Compute Engine) are in a price war, funded by their deep pockets.
It's a war designed to gain market share at the raw metal and compute commodity layer. As a result it's forcing others, like Rackspace, to develop cloud services justified not by raw compute and simple price but by additional "value."
The war has helped eat into Rackspace's profits. To fight back the company launched OnMetal Servers – dedicated, managed hardware on Rackspace – in June. Yet, curiously, it seemed to also deny it was pulling out of the commodity cloud biz.
Building OpenStack has proven to be no less difficult for Rackspace. Having committed strategically to OpenStack in summer 2010 and successfully developed the compute layer, Rackspace was forced to buy OpenStack startup Anso Labs in 2011 to take on development of the lagging compute fabric. The project has mushroomed, with the quality and completeness of the overall code seeming to lag.
Today, the pace in development is so broad and uneven that Hewlett-Packard has now stepped in, to provide a critical mass around its own OpenStack distro Helion and contributions to the vibrant and diverse open-source project.
Yet the involvement of large companies like HP has generated concern over the purity of the project. What will happen next? ®
Sponsored: Webcast: Why you need managed detection and response