Eat up Martha! Microsoft slings handwriting recog into OneNote on Android
Freehand input on non-Windows kit for the first time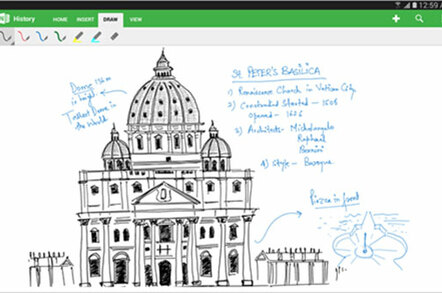 Microsoft has announced improvements to the mobile versions of its OneNote note-taking software, aimed particularly at those who prefer to do their jotting with a pen, rather than a keyboard.
Most significant among the updates, the company has released a new version of OneNote for Android tablets that supports handwriting input for the first time.
Redmond has offered a version of OneNote for Android since February 2012, but like the version for iOS, those early releases only supported text input using the onscreen keyboard. Handwritten notes would sync from other platforms, but you couldn't create new notes by writing directly on the screen, no matter how big your fondleslab was.
That changes with the latest version of the app, which brings not only handwriting support, but also some new formatting options for notes. Microsoft made the new version available in the Google Play store on Tuesday following a short beta-test program that began in July.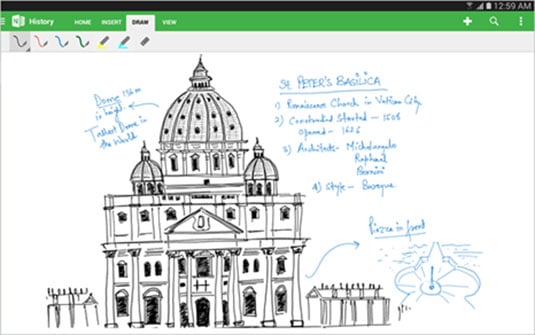 OneNote for Android now lets you vandalize JPEGs take handwritten notes to your heart's content
Far be it from Redmond to ship a new version of OneNote for Android without also giving the software some love on its own platforms, though. Tuesday also saw the company release a new version of its touch-friendly OneNote app for Windows that adds to that product's growing feature list.
Among the new capabilities are an ink highlighter, printing support for users who still prefer to have dead-tree backups of their digital notes, and support for inserting files and PDFs into notes.
Be clear, however, that these changes only apply to the free version of OneNote that's available from the Windows Store. The full-fat desktop version of OneNote that ships as a component of the Microsoft Office suite already had these features, although it lacks the Windows Store app's touch-friendly UI.
Finally, Microsoft has partnered with the makers of the LiveScribe digital pen to make it easier to import scrawled thoughts into OneNote. An update to the LiveScribe+ mobile app now allows users to have all of their notes sent to a specific notebook within OneNote, automatically.
"Even in the digital age, some folks still find handwriting more natural than typing," a Redmond rep said in a blog post on Tuesday, pointing to research that suggests people retain information better when they write it down.
OneNote users who would like to provide feedback or suggestions are invited to do so on the product's support website. ®
Beat up Martin aka Eat up Martha
Sponsored: Practical tips for Office 365 tenant-to-tenant migration