Nexenta reckons it has Edge in squeezing your object storage BLOB
Dedupe for the little guy, not just the tech titan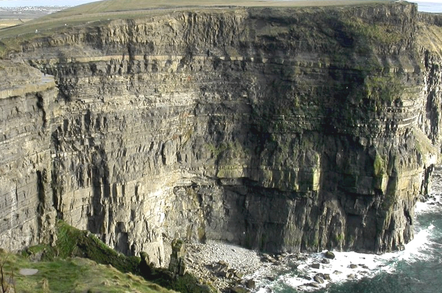 Nexenta says its latest NexentaEdge software product delivers petabyte-scale block and object storage with inline deduplication.
NexentaStor, the existing product, is a ZFS-based software SAN product which Nexenta partners and customers can install on commodity storage array hardware – a mainstream SAN/filer replacement product, in other words.
Edge runs on shared-nothing clustered systems to get its scale, presenting the overall storage capacity as a single logical pool. The deduplication lowers the total cost of ownership by reducing the amount if disk capacity needed to hold the data.
Nexenta says Edge, properly NexentaEdge but we'll shorten it, features:
x86 servers running Ubuntu or Red Hat Linux
iSCSI Block, Cinder, Swift and S3 Object APIs
Scale out, shared nothing architecture of any scale
Always on, high performance global inline deduplication and compression
Continuous real-time optimisation of performance and capacity utilisation
Network optimisation to reduce bandwidth requirements and avoid congestion
Self-healing capabilities using strong cryptographic hashing to guarantee data integrity
Designed to take advantage of key/value drives optimised for next generation scale-out object storage (e.g. Seagate Kinetic, and shingled disks)
Cloud Copy On Write of all content enables high performance data and metadata management
Replicast network protocol optimises network utilisation, minimises data transfers and delivers faster response times
Flexhash dynamically optimises data placement and data access and automatically ensures effective balancing of performance and capacity loads across the cluster
The target use cases are open-source cloud infrastructure and Big Data repositories for unstructured data such as film, medical images, graphic designs and backup/archive.
Nexenta CEO Tarkan Maner's canned quote included this: "We are providing enterprises and cloud service providers with a state-of-the-art Software-Defined Solution portfolio delivering ultra-scale, performance and TCO from block and file to object storage on any platform and for any workload or app."
Note NexentaEdge has no file access protocols listed as being supported, such as NFS or CIFS/SMB.
He talks about the explosion of unstructured data being hard to ignore and takes a swipe at existing suppliers, saying: "Legacy hardware- and new appliance-based systems are not designed to handle these sorts of workloads, data types and volumes. ... it has become the norm for the legacy vendors to keep chucking more hardware at the problem."
Nexenta thinks it's better to chuck software at the problem – its software, natch. It reckons that ordinary businesses, not the high-end Fortune 100s and their like, we understand, will be able to afford to store hundreds of petabytes of data on disk by deduping it so as to reduce the petabyte amount, and using commodity hardware, including high-capacity disks, in an object storage scheme that can handle the billions of objects involved.
The inline dedupe will probably benefit from flash-enhanced storage controllers being able to churn through the incoming data quicker than disk-based hardware.
Edge will compete with existing object storage vendors such as:
Amplidata and hardware partner Quantum's Lattus
Caringo
CleverSafe
EMC's older Centera, newer Atmos and newer-still ViPR software
Exablox
HDS
HP's StoreAll
NetApp's StorageGrid
Scality
The point of this list is to show that Nexenta is launching Edge into a pretty crowded market, and one which has struggled to grow as fast as it wants because object storage is a hard-to-grasp concept while existing SAN arrays and filers do the storage job well enough for most businesses.
Nexenta will be hoping that its acquisition and running costs, aided by dedupe, and its petabyte scaling will enable it to blow past existing object storage suppliers and be adopted by cloud storage suppliers eager to use OpenStack and provide huge data stores in the tens and hundreds of petabytes area.
We see a crucial edge that Edge has, or hopes it has, is the commodity hardware usage, providing an unbeatable cost advantage over combined hardware and software object storage suppliers, an advantage that grows and grows as the amount of data increases. A 10 per cent cost advantage at the $10,000 array level is a measly $1,000; a better $10,000 at a $100,000 array cost; a very nice $100,000 when the arrays cost a million dollars; and a million when the array costs $10m. Such numbers start getting very attractive as data gets measured in the 10s and 100s of petabytes.
NexentaEdge will be available worldwide in Q4 2014. There's more info here and a PDF data sheet here (PDF). Catch a demo at VMworld US 2014, August 24-28 in San Francisco. ®
Sponsored: Webcast: Why you need managed detection and response