Boffins ID freakish spine-smothered prehistoric critter: The claw gave it away
Bizarre-looking creature actually related to velvet worms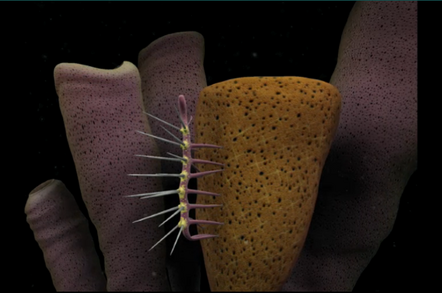 The surrealist nightmare worm Hallucigenia, so-called because of its otherworldly appearance and apparent lack of place on the taxonomic ranks, has finally found its place in evolutionary history... and even appears to have some modern-day descendants.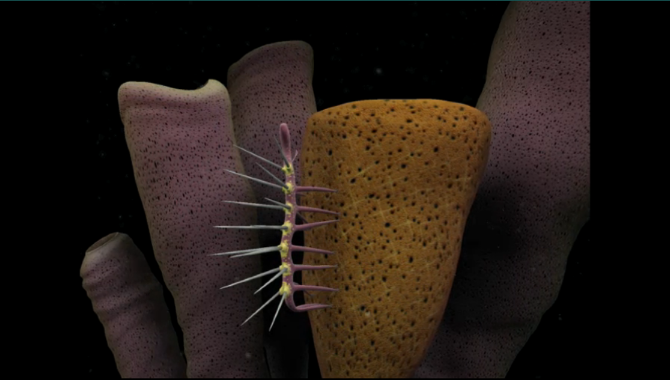 Hallucigenia is one of the most bizarre-looking fossils ever found by archaeoboffins, featuring legs, spikes and a head that looks pretty much exactly like its tail. Boffins had previously considered the Dali-esque creature as an evolutionary misfit, because it was unclear just where it came from or what modern creatures it was related to.
The animal also pops up in a weird time for life on Earth, more than half a billion years ago during the Cambrian explosion. Before that period, life was relatively simple, producing mainly easily reproduced marine organisms rather lacking in complexity for billions of years. Then, around 542 million years ago, the biological world suddenly exploded into diversity and the ancient origins of most major animal types – or phyla – showed up within 70 to 80 million years.
"It's often thought that modern animal groups arose fully formed during the Cambrian Explosion," said Dr Martin Smith of Cambridge University, the paper's lead author.
"But evolution is a gradual process: today's complex anatomies emerged step by step, one feature at a time. By deciphering 'in-between' fossils like Hallucigenia, we can determine how different animal groups built up their modern body plans."
Unlike other fossils of the time though, Hallucigenia didn't seem to correspond to any modern kind of creature. When it was first identified in the 1970s, scientists were so stumped by the sci-fi-looking thing that they thought the spines on its back were legs, its legs were tentacles and its head was its tail.
In fact, Hallucigenia had a row of rigid spines running down its back and seven or eight pairs of legs that ended in claws. The animal was just five to 35mm in length and lived on the ocean floor.
The affinity of Hallucigenia and other contemporary "legged worms", collectively known as lobopodians, has been very controversial because a lack of clear characteristics linking them to each other or to modern animals has made it difficult to figure out where they fit in.
With Hallucigenia, it's the claws that have led boffins to its nearest living relative, the modern velvet worm. The claws have layers of cuticle stacked inside each other like Russian nesting dolls in the same structure as can be seen in the jaws of the velvet worms, where legs have been modified for chewing.
"The peculiar claws of Hallucigenia are a smoking gun that solve a long and heated debate in evolutionary biology, and may even help to decipher other problematic Cambrian critters," said Dr Smith.
"An exciting outcome of this study is that it turns our current understanding of the evolutionary tree of arthropods – the group including spiders, insects and crustaceans – upside down," said Dr Javier Ortega-Hernandez, the paper's co-author.
"Most gene-based studies suggest that arthropods and velvet worms are closely related to each other; however, our results indicate that arthropods are actually closer to water bears, or tardigrades, a group of hardy microscopic animals best known for being able to survive the vacuum of space and sub-zero temperatures – leaving velvet worms as distant cousins." ®
Sponsored: Detecting cyber attacks as a small to medium business