Spin doctors crack 'impossible' asteroid hurtling towards Earth
Just what is glueing space trash oddball together?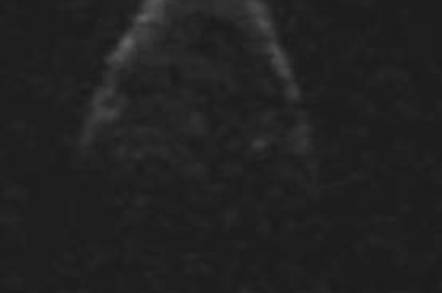 Pic Scientists studying a mysterious asteroid that could hit Earth in the 29th century think they've found the reason why the fast-spinning object hasn't blown itself apart.
The asteroid, 1950 DA, is over a kilometer (0.62 miles) across and rotates completely every 2.1 hours, a speed once thought impossible since the forces involved should pull it apart. Radar imaging has shown that the asteroid is a clump of rubble that should have disintegrated – but a team from the University of Tennessee thinks it may have cracked the conundrum.
"We found that 1950 DA is rotating faster than the breakup limit for its density," said postdoctoral researcher Ben Rozitis. "So if just gravity were holding this rubble pile together, as is generally assumed, it would fly apart. Therefore, interparticle cohesive forces must be holding it together."
In a paper in Nature the team posits that van der Waals forces are keeping the rubble clump together. These forces, named after the Dutch physicist who noticed them, involve all attractive and repulsive forces between molecules or parts of them that cannot be chalked up to covalent bonds or electrostatics. These include close-range quantum effects and dipole-dipole interaction, and are used by gecko lizards to climb sheer surfaces.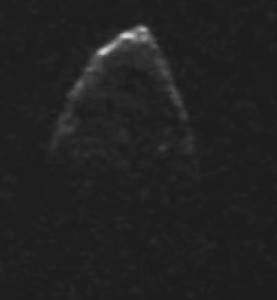 You spin me right round, baby, right round
It is thought that the same forces are holding 1950 DA together, but what is good news for the asteroid could be bad news for Earth. There is a small chance the asteroid could hit our planet in 2880, based on its orbital path, and the van der Waals forces could make dodging that a lot trickier.
One of the methods of dealing with Earth-threatening asteroids initially favored by NASA and much beloved of Hollywood is to blow them up. But this approach is highly problematic – we don't have the explosives necessary to destroy really massive hunks of space rock.
But the makeup of 1950 DA raises another problem with this approach. If a kinetic impactor is sent out to hit the asteroid, the weak van der Waals forces would fail and the asteroid would break up, causing lots of smaller impacts on Earth that could be almost as deadly as one big one.
"With such tenuous cohesive forces holding one of these asteroids together, a very small impulse may result in a complete disruption," said Rozitis.
NASA, how are those warp cores and disintegrating forward phasers coming along? ®