Dragons' Den man and co-CEO to work for FREE at loss-making Outsourcery
'Salary sacrifice' among measures to find £4.5m in working capital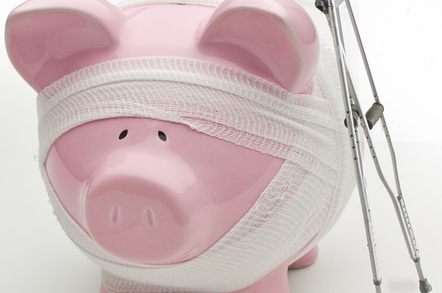 Outsourcery bosses Piers Linney and Simon Newton are relinquishing their salaries for the next 12 months in a bid to save the loss-making cloudy biz £500,000, the company told the stock market today.
The desperate duo's act is part of measures to find £4.5m in funds to keep the wolves from the door in the medium term, a move that also includes wider cost-cutting, revising debt repayments and placing more shares on the market.
The Manchester-based firm revealed at the end of June it is setting up a direct sales force because channel spoils came in below expectations, and as a result it needed to find additional working capital.
A review of the options available to the company were assessed and today it confirmed the plan to eke out £1m in cost savings via a re-org, as well as to save another half a million pounds via exec "salary sacrifice".
The co-chief execs' move will lower the wage bill by £519,898 over the course of the 12-month period and "believe that this further demonstrates their belief in the future prospects of the business".
In addition to the CEOs foregoing their wages, Outsourcery has agreed with debt providers to reschedule the debt service to generate £1.5m. And it is planning to place more than 7.6 million new shares at 20 pence each in a bid to raise £1.5m. The new shares will represent 18.2 per cent of the total share capital.
The new listing price is way down on the 112 pence per share that the stock started trading for when Outsourcery floated on AIM last year, and is an 11 per cent discount on yesterday's closing price.
Outsourcery has approved the grant of new options to the joint CEOs over an aggregate of more than 2.7 million shares under the existing long term incentive plan at an exercise price of one pence with a 12-month vesting prior to this.
"The directors believe that the proposed financing package of £4.5m will enable Outsourcery to achieve its aim of reaching monthly run rate break-even and operational positive cash flow during 2014," the firm stated.
In a trading update, the company confirmed it had made an adjusted loss after tax of £3.6m for the six months ended 30 June on revenues of £3.5m.
Rather than investing in new ventures of punters trying their luck at Dragons' Den, Linney may be better advised to figure out a way to make Outsourcery profitable first, particularly in light of his decision to work at the business for free. ®
Sponsored: Quit your addiction to storage