Dodgy payday loan ads make up 83% of cases probed by UK's FCA
Cheap credit's not so cheap for the regulator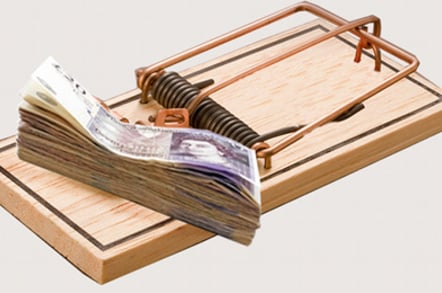 The majority of cases under investigation by the Financial Conduct Authority now involve online adverts for "cheap" credit services, the regulator has said.
Some 80 per cent of the cases it has launched in the past four months involve firms that offer financial products over the internet or through mobile phones.
All in all, the Financial Conduct Authority (FCA) has investigated 227 consumer credit cases since April Fool's Day this year. Of these, 189 of the cases were brought against companies which do business using websites, emails or text messages.
A quarter of the total number of cases involved firms offering short term credit or pay-day loans, with most of the promotions failing to mention the whopping annual percentage rate of charge (APR).
The number of cases launched by the FCA since 1 April breaks down as follows:
Banner Ads - 12
Email - 14
Pay-per-click - 37
Website - 124
Social Media - 2
Clive Adamson, director of supervision at the FCA, said: "It is important that all firms ensure financial promotions are fair, clear and not misleading so that customers are able to make informed decisions. We are disappointed to see standards fall short of what we expect, particularly in the consumer credit space, four months from when we took over regulation.
"We believe that firms in this sector can do more to ensure financial promotions meet the standards we would expect and will continue to monitor performance in this area."
The FCA gave several examples of the sort of firms it has investigated, although it did not provide names.
Some of the cases involved ads for debt management firms which failed to mention that services were not offered free of charge. Other cases were launched against firms which promised credit regardless of customers' financial situation, whilst one "logbook lender" even claimed its services were endorsed by the FCA.
Of particular interest to the regulator is companies which buy advertising using morally questionable search terms. The example given by the FCA suggested one firm advertised along the Google search term "government debt help", meaning that cash-strapped surfers were shown adverts for financial products which "potentially misled people to believe the firm was offering government assistance when this was not the case". ®