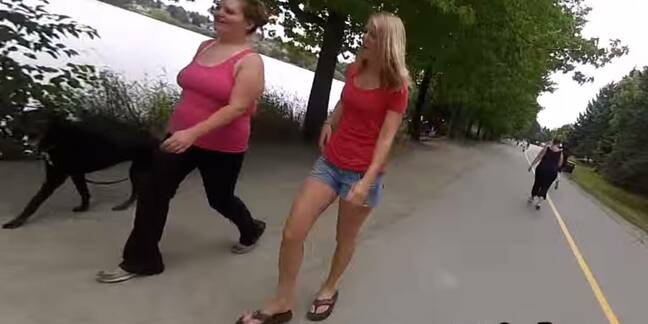 VID Shaky GoPro videos are the new post-holiday family slide nights: just as seeing an Uncle's slides of their most recent journey is tedious, helmet-cam footage of your rellies hurtling down a hillside on a mountain bike is evocative for those who've done it, but contextless and dizzying for anyone else.
Enter Microsoft, perhaps atoning for the crimes it has inflicted on the world with a billion somnolence-inducing PowerPoint presentations, bearing a technology it's called "Hyperlapse".
As the video below explains, first-person videos like those captured on GoPro action-cams and Google Glass, are hard to watch because they are shaky and slow.
Speeding them up doesn't improve things because that just exaggerates shakes.
Hyperlapse speeds video and also smooths it out.
To pull off that trick, Hyperlapse "first reconstructs the 3D input camera path as well as dense, per-frame proxy geometries," the developers behind the system explain. "We then optimize a novel camera path for the output video (shown in red) that is smooth and passes near the input cameras while ensuring that the virtual camera looks in directions that can be rendered well from the input."
The technique then renders new frames by combining original frames and stitching them together to create a smoother version of the video. Results and explanation can be had in the video below.
Microsoft says it is working to bring Hyperlapse into a Windows app some time soon.
When it lands, the app won't be entirely alone. Plenty of video editing programs can smooth footage, while smartphone apps like LapseIt, which Vulture South used to capture footage of a dangerous desert drive, already offer some smoothing of video.
Hyperlapse would make for a rather better app. And perhaps a better way to sell mobile devices running Windows. Redmond is, after all, happily re-using with Nokia's penchant for pointing out that the size of its cameras is what matters, because you can do almost anything better with a bigger sensor.
If Microsoft can also demonstrate out that its photogenic whoppers have subtle techniques to employ for your viewing pleasure, Hyperlapse could become a useful way to win a few more points of market share. If doing so makes learning about friends' and rellies' holidays less tedious, Microsoft is welcome to that win. ®
Sponsored: Ransomware has gone nuclear