How to promote CSIRO's ICT in Schools in your community
Vulture South is closing in on its target to find volunteers to help teach tech in schools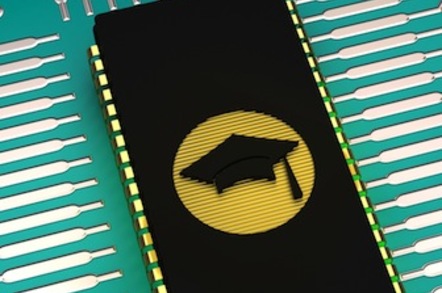 A couple of weeks ago, The Register launched a campaign in support of the CSIRO's ICT in Schools program, an effort to get IT pros sharing their experience with kids in schools around Australia.
The good news is that at last count a dozen Reg readers had signed up as volunteers! That's a decent number and more than half way towards our goal of 20 volunteers.
We're hearing less about folks who have signed up to promote the scheme into schools, so this week I'm going to tell you how I promoted the scheme to the school my kids attend.*
Step one was to figure out which teacher has responsibility for technology.
A quick email explaining ICT in Schools piqued the chap's interest, before I popped in to explain myself and why it would be a good idea for the school to let parents know about the program. I emphasised that parents might choose to volunteer at the school, or any other.
That appeal worked and a slot in the school newsletter was mine!
Here's a version of the text I submitted.
Anyone who works in IT knows how hard it is to find skilled people. That universities aren't producing many graduates to help things along is also well-documented.

The good news is that the CSIRO has found a way to help. For a few years now the organisation has run programs called "Scientists in Schools" and "Mathematicians in Schools". The programs see scientists and mathematicians go into schools and help teachers to devise and deliver activities that engage kids and help them to understand the kinds of careers on offer.

Last year CSIRO kicked off the same thing, but for IT professionals.

CSIRO's always looking for volunteers to help out, and for schools interested in working with volunteers.

I thought ICT pros in the [Your School Name Here] community might like to hear about the CSIRO's efforts.

For what it is worth, this article came about after I explained myself to [Insert name of teacher with responsibility for IT and/or the school newsletter], asked nicely, explained the noble aims of the program and sat down to write it.

If you've got kids at other schools, you now know how to evangelise ICT in Schools to those communities. If you work in IT and like the idea of helping out, your next step is even easier: the program's web site - http://www.scientistsinschools.edu.au/ICT/ - explains everything you need to do to sign up.
And there you have it, a simple method with which to publicise ICT in Schools.
Feel free to let us know when you unleash the text above! ®
* Protocol dictates I don't mention the school.
Sponsored: Becoming a Pragmatic Security Leader