Oh, Emulex: Another quarter, yet more red-splattered results
Shrinking revenues, deepening losses - what's the future hold?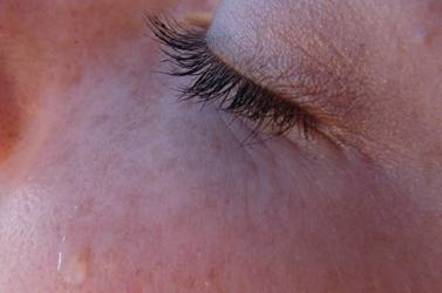 Emulex results were dismal, never mind what president and CEO Jeff Benck said about achieving "the high end of our revenue guidance." Revenues were down and losses deeper for its fourth fiscal 2014 quarter - ended June 29 - and for the full year.
Q4 of financial year 2014's revenues were $99.8m; they were $109.7m last quarter and $120.4m a year ago.
Q4 FY 2014's net loss was $14.7m; it was half that – a loss of $7.2m last quarter – and less again, $4.6m, a year ago.
Full FY 2014 revenues were $447.3m, compared to $478.6m last year.
FY 2014's net loss was $29.5m compared to the previous year's $5.2m loss.
So Emulex left fiscal 2013 in a hole and dug itself a deeper one in fiscal 2014, having achieved six loss-making quarters in a row.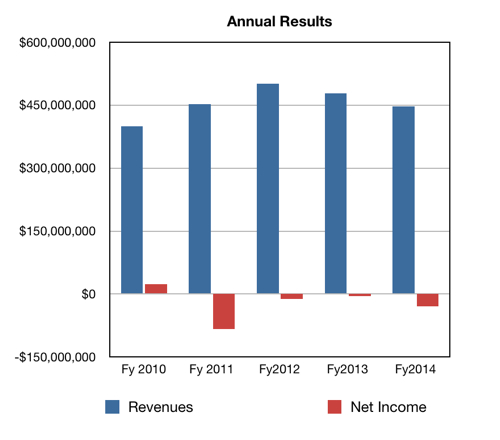 Benck's gloss on the results included this: "We experienced good recovery in our Fibre Channel business in the quarter with sequential revenue growth. Based on reported results to date, we expect to demonstrate more than two points of Fibre Channel market share gain in the quarter."
The company's Fibre Channel host bus adapter business isn't the growth engine it once was, and its 2013 Endace acquisition, taking it into Ethernet network performance analysis, isn't the lifesaver it wanted. Nor is its Ethernet chip business doing well enough. And, to deepen its woes, three activist investors have their hooks into the company too.
Is the bottom of the revenue trough in sight?
Benck said; "As we look forward, we believe that we should benefit from two major server upgrade cycles this year, IBM Power 8 and the Intel Grantley refresh. With this new Intel design cycle nearing completion, Emulex has significantly broadened its design win footprint in Ethernet from a concentration among two OEMs to now include offerings from all of the top eight server OEMs as well as the leading open compute ODMs."
That's all very well but Emulex only expects revenues of between $93m and $99m next quarter. That would compare poorly with the year-ago quarter's $114.8m. Down we go with no bottom in immediate view.
Benck has a poor hand of cards to play as he tries to fend off the activist investors who want the share values to be lifted, either by better business performance producing cash for dividends and buy backs or by selling off bits of the business – or even all of it.
A year ago Emulex hired Goldman Sachs to find a buyer for the business, according to Bloomberg. Sorry, guys, but who would want to buy you? There's QLogic, which would delight in having a Fibre Channel HBA monopoly but the regulatory authorities might frown on that. There's also Cisco, if it wanted to get into the HBA business and strengthen its Ethernet product lines a tad, but Cisco buys businesses with lots of growth potential and Emulex doesn't seem to have that at present. Maybe PMC Sierra, which bought Adaptec, would be interested? The Emulex acquisition view doesn't look that good.
Our view? If Emulex doesn't turn the corner this fiscal year then break-up and sell-off lies ahead. ®
Sponsored: From CDO to CEO