Amazon smacks back at Hachette in e-book pricing battle: We're doing it for the readers
Etailer campaign responds to NYT author backlash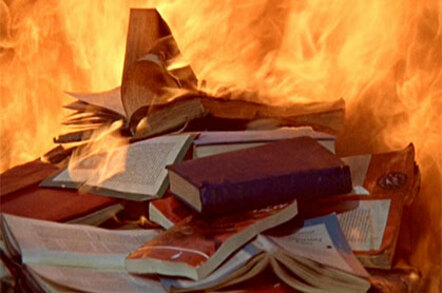 Amazon's latest PR stunt for its contract dispute with publisher Hachette has seen the mega etailer establish a "Readers United" group in response to writers' group "Authors United" to put pressure on the publishing house to lower its book prices.
This comes after writers including Philip Pullman and John Grisham took out a full page ad decrying Amazon's tactic of restricting the sales of books from publisher Hachette over the dispute. Bezos firm has defended the restrictions as a legitimate negotiating tactic.
The firms have been bickering over the price of ebooks, which Amazon claims Hachette is setting too high, and the two firms have been in a standoff for nearly four months over the issue.
The online behemoth sent an open letter out to Amazon authors and published it on its newly created readersunited.com website, calling on folks to support its attempts to make ebooks cheaper.
The company likened the ebook to the introduction of the paperback book, claiming that the publishing industry was once more digging its heels in in the face of innovation. It also managed to mention the whole ebook price-fixing lawsuit and said it had made three attempts to sort things out with Hachette.
Amazon handed out the email address of Hachette CEO Michael Pietsch and encouraged folks to email him and talk about how Hachette was messing things up for everyone:
Please consider including these points:

We have noted your illegal collusion. Please stop working so hard to overcharge for ebooks. They can and should be less expensive.
Lowering e-book prices will help — not hurt — the reading culture, just like paperbacks did.
Stop using your authors as leverage and accept one of Amazon's offers to take them out of the middle.
Especially if you're an author yourself: Remind them that authors are not united on this issue.
Authors may not be united on the issue, but plenty of them showed they were willing to hit back at Amazon with the two-page ad in NYT. The ad outlined a letter authors first signed last month, accusing the etailer of punishing authors to get its own way and added Amazon chief Jeff Bezos' email address.
Although the writers, including Stephen King, Lee Child and Philip Pullman, said they weren't taking sides in the contract dispute, they asked folks to email Bezos to tell him to resolve the argument without harming authors further.
As writers – most of us not published by Hachette – we feel strongly that no bookseller should block the sale of books or otherwise prevent or discourage customers from ordering or receiving the books they want. It is not right for Amazon to single out a group of authors, who are not involved in the dispute, for selective retaliation. Moreover, by inconveniencing and misleading its own customers with unfair pricing and delayed delivery, Amazon is contradicting its own written promise to be "Earth's most customer-centric company."

We call on Amazon to resolve its dispute with Hachette without further hurting authors and without blocking or otherwise delaying the sale of books to its customers.
Amazon has been trying to strong-arm Hachette into line by reducing its inventory of the publisher's print books and killing off discounts, leaving customers with expensive books that take weeks to ship. The etailer claims that it wants a contract that gives the publisher 35 per cent of the take on an ebook, while the author also gets 35 per cent and Amazon takes the remaining 30 per cent – providing Hachette drops its prices to the $9.99 range.
"While we believe 35 per cent should go to the author and 35 per cent to Hachette, the way this would actually work is that we would send 70 per cent of the total revenue to Hachette, and they would decide how much to share with the author," Amazon said in a blog post last month. "We believe Hachette is sharing too small a portion with the author today, but ultimately that is not our call."
In a response to emails from readers published by the New York Times, Hachette chief Pietsch claimed that Amazon was trying to take even more from publishers, authors and bookshops.
"This dispute started because Amazon is seeking a lot more profit and even more market share, at the expense of authors, bricks-and-mortar bookstores, and ourselves. Both Hachette and Amazon are big businesses and neither should claim a monopoly on enlightenment, but we do believe in a book industry where talent is respected and choice continues to be offered to the reading public," he wrote.
He added that Hachette did not collude with anyone on the price of ebooks and that many of its e-titles were offered at $9.99. He said that the higher-priced ones were still half the price of print books and the prices were often lowered when the paperback version came out.
"The invention of mass-market paperbacks was great for all because it was not intended to replace hardbacks but to create a new format available later, at a lower price," he said.
Meanwhile, there are signs that Hachette may not be the only Amazon partner having trouble coming to a new contract with the webstore. Disney DVDs like Maleficent and Captain America: Winter Soldier, which are available for pre-order on Amazon.co.uk, are not available on the Amazon.com site. Digital versions of the movies are still there to buy, but physical copies of DVDs and Blu-Rays are missing. ®
Sponsored: Becoming a Pragmatic Security Leader