Multiple user accounts coming to Android phones 'n' slabs
Someone's thought of the children, but perhaps not of Samsung, VMware and Citrix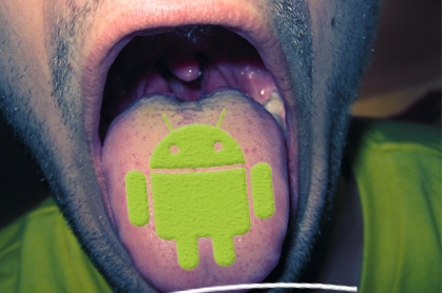 It looks like user accounts are coming to Android.
This thread in the Android developer preview mailing list includes a post in which a user asks (with spelling and punctuation anomalies) for something like this:
Tablets are able to have multiple accounts for multiple users, allowing the users to install an app only for themselfes . Storage space of phones is growing, 32GB or even 64GB. For example, some families are sharing their phones with their kids for gaming. On a tablet, you can set up an account for your kids and restrict the access on your own apps. My idea is to enable the multi-user feature on phone type devices, with adding an extra restricted account type for kids.

Parents can select wether they enable Play Store access or not. Also, it should be selectable if the child user is allowed to have a Google account or not. A childs Google account should have a age restriction for Google apps and the Play Store (optional). Parents can select what types of apps their child can install, and the Child's Google account should be unable to create a G+ profile until it is old enough (optional).
That suggestion prompts a response from an Android development project team member to the effect that "The development team has implemented this feature and it will be available as a part of the next public build."
Accounts with different levels of user privilege are a time-honoured way of controlling the resources users can access, so there's nothing new in this feature coming to Android.
Yet the absence of user accounts in Android has, perversely, turned into opportunity for others. Samsung's Knox, Citrix's Receiver and various bits of VMware's Horizon range make it possible to wall off bits of a phone so that BYOD devices can offer better-secured zones from within which corporate enterprise applications can connect to sensitive business data.
The Android accounts arrangements described above aren't a threat to those efforts. Yet.
Android users can therefore look forward to some nice new ways to work with their devices. And vendors with an interest in securing BYOD Androids can look forward to some interesting meetings about Google's future intentions. ®
Sponsored: Your Guide to Becoming Truly Data-Driven with Unrivalled Data Analytics Performance