Now YOU can build apps for Google's all-seeing gadgets for fat losers
Wait, shouldn't there be another hyphen in there?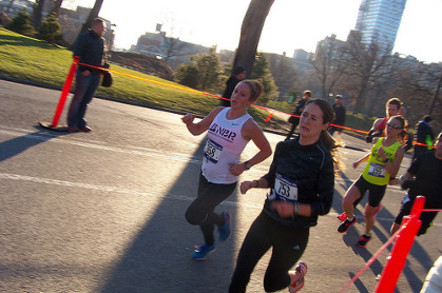 Developers can now download an early version of the software development kit (SDK) for Google Fit, the Chocolate Factory's forthcoming health data platform that was announced at this year's Google I/O conference, although not all of the components are fully baked yet.
When it launches this fall, Google Fit will include APIs for Android, Android Wear, and web apps that will allow fitness freaks to blend sensor data from multiple sources and share it with health-related online services.
"This means that with the user's permission, you can get access to the user's fitness history – enabling you to provide more interesting features in your app like personalized coaching, better insights, fitness recommendations and more," Google Fit product manager Angana Ghosh said in a blog post.
So far, however, coders can only play around with the Android APIs. Not even the Android Wear APIs are available yet, although Google says they will ship with the official release of the SDK.
What's more, apps that use the Google Fit APIs won't run on just any Android device. They require a new, prerelease version of Google Play Services, which can only be installed on the developer preview of Android L, the next-gen version of Google's smartphone OS that won't ship until later this year.
Google helpfully posted new system images of the Android L Developer Preview on Thursday, complete with Google Fit Support. But as with the earlier images, they're only available for the Nexus 5 mobe and the Wi-Fi-only version of the second-generation Nexus 7 fondleslab. Many developers will likely be stuck using an emulator on their PCs.
More to the point, developers won't have a very large test group for their Google Fit apps, because anyone who wants to install and run them will need a compatible device with the Developer Preview system image installed. The Google Play store won't accept Google Fit apps until the software is officially released, either.
Still, getting started with the preview SDK now will give developers a head start and help make sure their code is ready to roll once the final version of the SDK is published.
The preview includes APIs for accessing data from sensors on the device and connected wearables, recording data from those sensors in the background in a battery-efficient way, and querying and manipulating the recorded data history.
Developers who want to share experiences, questions, and suggestions about the SDK are encouraged to join the Google Fit Developers Google+ group. ®