Who is Zadara and what does it mean by a Virtual Private Storage Array?
We reckon it's a bit like a VM for servers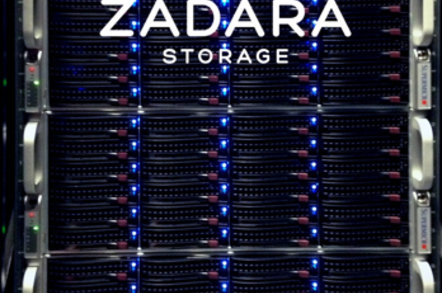 Analysis Storage upstart Zadara supplies a VPSA, a Virtual Private Storage Array, to managed and cloud service providers. What is a VPSA?
It is a 4U rackmount node containing dual x86 controllers and three types of storage media: 200GB SSDs, 600GB 10K rpm SAS drives and 7.2k rpm SATA drives storing up to to 5TB each.
There are 36 drive slots, 24 in the front and 12 in the back, and it's possible to have all-flash VPSAs if you wish. Maximum capacity with 5TB drives is 180TB.
These nodes scale out into effectively clustered resources using dual 10GbitE links, and more than 200-node configurations are possible. There are four basic configurations:
Baby - base cache, 1Gbit/s IO
Basic - Double cache, 2Gbit/s IO
Boost - Quad cache, 4Gbit/s IO
Blazing - Octuple cache, 8Gbit/s IO
A cluster can have nodes (storage engines) with different CPUs and storage configurations. Older ones use quad-core Xeons with newer ones using 6- and 8-core ones.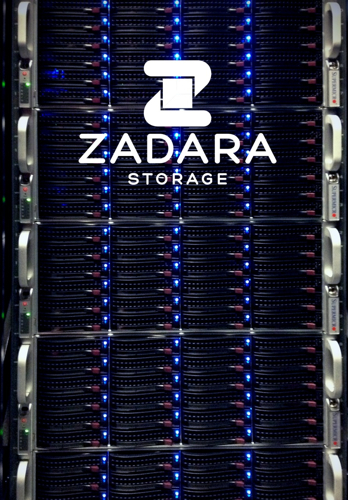 Zadara VPSA hardware
That's Zadara's underlying hardware. The real interest lies in the software, however, which is described as a virtualising storage resource abstraction layer. Zadara's operating system, let's call it ZOS for short, takes this aggregated set of nodes as its base platform and carves it up as virtual arrays for each user or tenant in a multi-tenant environment.
Each virtual array is thus specific to a tenant or user, hence private, hence VPSA, and can present itself as an iSCI block resource, or NFS or CIFS (SMB) file resource or both file and block. Each VPSA can be given a defined amount of CPU resource, memory, storage capacity in one or more of the three tiers, and a protection policy such as RAID 1 or 10, meaning a minimum of two nodes, or RAID 5 or 6 with a minimum of three nodes. Other protection capabilities include snapshots. High-availability and Disaster Recovery are both present.
Data can be encrypted in-flight and at rest. Data is tiered with auto migration that's non-disruptive, and SSD read-write caching. SSD cache is automatically added to every volume unless explicitly turned off by the user and the SSD cache size is selectable in real time by the user; it can grow or shrink with no disruption.
Any one VPSA can be scaled up in these respects or scaled down, on-demand, in real time - you can see why cloud service providers would like this and billing is on a pay-as-you-use basis - you can see why customers, anxious to avoid capital expenditure on storage arrays, might like this OPEX-minimising idea.
A VPSA gets a defined quality of storage service (QoS) and the ZOS software prevents it going beyond that, thus solving the "noisy neighbour" problem where one storage resource-accessing client hogs too much resource and impoverishes the other array users in terms of storage QoS.
A VPSA is a virtual storage machine. We think that in many ways this is conceptually equivalent to a server virtual machine. NetApp has a roughly similar idea of virtual storage arrays or machines based on its FAS arrays via ONTAP.
The hardware is built by Zadara, while the software, which uses OpenStack code for orchestration and management, has also been produced by Zadara. This is not just a business model.
We can view the Zadara array as a hybrid array, comparable to those from Nimble, Tegile and Tintri. However their collective idea is to provide something like 90 per cent of flash data access speed for disk-like costs. Zadara came from a different point of view, wanting to offer cloud economics and cloud-style consumption models.
We might think that the VMAX cloud edition is a roughly similar system.
We understand that Zadara has 25 employees. There are more than 100 customers and it has had three consecutive quarters of doubled revenues quarter-on-quarter.
It was founded in February 2011 and Toshiba has invested more than any other investor. There was a $7m A-round and a Toshiba $3m additional round, which doesn't have a letter. Total funding is around $20m.
There is no deduplication or compression available today in Zadara's products. VAAI support is coming. Personally I'd think the addition of object storage access is another possibility – perhaps using OpenStack software. I'd also wonder about InfiniBand or the faster 40Gbit/s Ethernet being supported in the future. ®