Violin strings up cheaper instrument: 17.5TB flash box for $100k + change
And greater capacities – for small to medium biz with holes burning in their wallets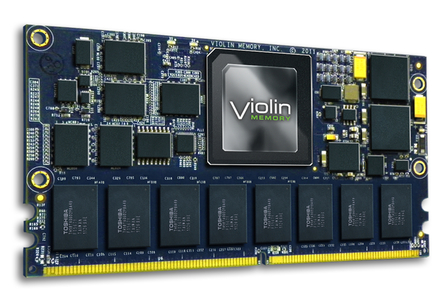 Violin Memory has built a 6000-series entry-level all-flash array, calling it the 6100. The upstart hopes it will land some punches in the larger mid-market than its high-performance enterprise base.
The 6100 uses the same 19nm MLC flash chips as the 6200, and has three capacity points: 17.5TB, 26TB and 35TB. The 6200 runs up to 70.3TB. The mixed read-write 4K-block IOPS rating of the 6200 is 750,000. What is it for the 6100?
Steve Willson, Violin's EMEA tech services veep, told us: "It depends on the configuration. The V-6100-17, V-6100-26, V6100-35 are all based on our 32 x 1TB VIMM. They are all rated at 500,000 mixed IOPS at 500 microseconds or less. All larger configs are the same as the existing 6264 at 750,000 IOPS mixed workload at at 500 microseconds or less of latency."
There is a so-called pay-as-you-grow pricing scheme, with software-licensed NAND increments running up from 17.5TB to 35TB. It's a 52TB-to-70TB range on the bigger 6200.
Violin says the 6100 pay-as-you-grow scheme "breaks the $100,000 street price," which should enable Violin to compete in the small and medium business market.
Violin hasn't announced a Windows Flash Array (WFA) version of the 6100. Wilson said: "The WFA is based on the 62xx series arrays, but with an upgraded processor and memory configuration to take on the demands of the rich feature set in Windows."
Logically, a WFA version of the 6100 would also need an upgraded processor and memory configuration.
Wilson said the 6100 interoperates with the Concerto controller: "If you bought a 6100 now, you could add Concerto later. Up to four for now, just as with the 6200."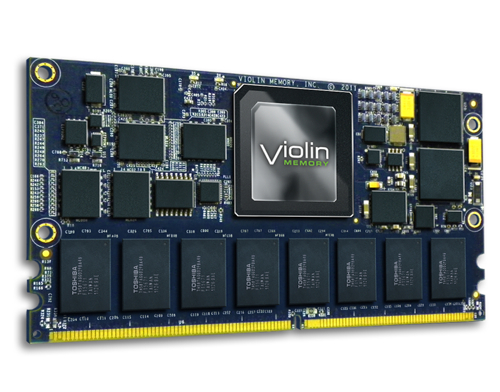 Violin loads flash storage into its arrays using these in-line memory modules – not using standard SSDs
Is the 6100 merely a cost-reduced version of the 6200? Willson was keen to dismiss that idea:
No. We have taken two primary configs (32 x 1TB equals 30 plus two spares) and the larger config (64 x 1TB equals 60 plus four spares), but give our clients and partners the option to buy smaller configs, based on those two configurations. We ship one of the two configs, and the client pays for the capacity they need (17.5TB, 26TB, 35TB etc).

If they use more capacity than they have paid for, they simply order a license to use the upgraded capacity in 8TiB chunks. The smaller configuration can be expanded to 35TB, the larger to 70TB as normal. A couple of key points: smaller capacities get the benefit of full performance on day one, even when they are not using the capacity.

Secondly, when they use the extra capacity and pay for an 8TiB increment, there is no engineering, no data rebalancing, no datacenter visit – it's a license to use.
The 6100 is available now from Violin's channel. Pricing has not been revealed, although it's implied in the release that a 17.5TB base 6100 costs less than $100,000 on the street. ®
Sponsored: Becoming a Pragmatic Security Leader