Two years on, Curiosity's still in the same crater
Good science, though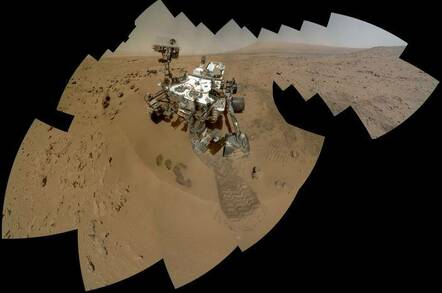 Its wheels are eroding and its (parody) Twitter account is grumpy, but the Mars Curiosity Rover has celebrated two years in space.
Yes, it has been two years since we sat on the edges of our seats, watching (if we were able to) or listening (in the case of this scribe, who was in his car at the time, thankful for the broadcast) to the "seven minutes of terror" as we waited to hear whether the rover would land or merely smash itself to bits on the surface of the Red Planet.
Since then, we've had Curiosity selfies, speculation (damped down by NASA) that it had found organic compounds, sing Happy Birthday to itself for its first anniversary, turned up lakebed clay, sent buckets of photos home, and begun a three-kilometre trek towards Mount Sharp.
NASA's second birthday announcement also notes that the rover has had to go through some extra computer work to stay on-mission.
A few weeks ago, NASA says, it had to suspend commanding of the rover when its A-side computer showed "unexpected behaviour". The A-side computer had been switched over to backup operations in February 2013, and the latest two-day break was needed "while engineers confirmed that the A-side computer remains reliable as a backup".
Previous computer issues on Curiosity included a software upgrade immediately it was landed and communicating, and a buffer overrun.
NASA is now laying the groundwork for a new rover in 2020.
The space agency's official Twitter account (@MarsCuriosity) is, of course, in a celebratory mood. So is the parody account, @SarcasticRover, in its own way:
Still in the same crater…

http://t.co/30hqCy2HMi pic.twitter.com/2shRti8IDs

— SarcasticRover (@SarcasticRover) August 5, 2014
After #2YearsOnMars, my proudest accomplishment is probably figuring out how to access Netflix from a crater.

— SarcasticRover (@SarcasticRover) August 5, 2014
®
Sponsored: Becoming a Pragmatic Security Leader