Scottish independence debate: STV player flops under weight of viewers
We CAN'T SEE YOU, Jimmy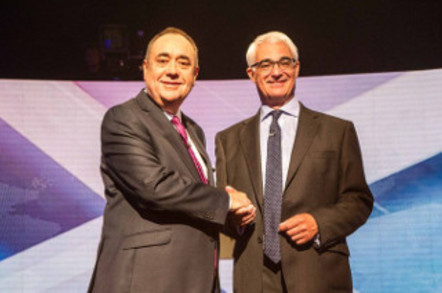 In what could be taken as an ominous sign for the future, Brits below the Scottish border were unable to live stream the debate on Scotland's independence last night – because the STV Player crashed under the weight of viewers trying to watch the event.
The debate between pro-independence First Minister Alex Salmond and Labour MP Alistair Darling, who's trying to keep the United Kingdom in one piece, was only broadcast on Scottish channel rather than throughout the country.
The network said it chose to broadcast the debate on STV because only the Scots will have the opportunity to vote on the country's secession.
But folks in the rest of the UK were understandably quite interested in what Salmond and Darling might have to say about one part of Great Britain taking off on its own and so crowded the channel's online player to try to catch the debate – only to be greeted by a downed service.
STV tweeted that it was facing "unprecedented demand" for the livestream and started posting it in segments to its referendum site.
We are receiving an unprecedented demand for the live stream of the debate .. (1/2)

— STV (@WeAreSTV) August 5, 2014
We have made each section of the programme available for immediate catch up on our referendum site http://t.co/moiHqAwXbt (2/2)

— STV (@WeAreSTV) August 5, 2014
Most people seemed surprised not to be able to watch the debate on television in the first place, wondering why ITV, the BBC, Sky or other UK-wide broadcasters weren't carrying it:
@WeAreSTV @MattChorley Should be on the UK-wide BBC. This is about the future of the union after all, which is about ALL British nations.

— Katherine Birkett (@Kitty_B_Good) August 5, 2014
@stevenjmark most important debate the UK has (not) seen for decades

— Derick Murdoch (@Derick_Murdoch) August 5, 2014
The BBC said it tried to secure the rights to stream the debate online itself, but failed.
In reply to some complaints, the BBC asked to stream the debate live online, but permission was refused by STV. http://t.co/l4Wko75RID

— BBC Scotland News (@BBCScotlandNews) August 5, 2014
Other viewers reckoned it was a good time for a joke about how relations in the union would be if Scotland becomes independent:
@WeAreSTV this is Scotland at it's best on its own then I take it? Not really ready. pic.twitter.com/SFaOP5zkXP

— ✭ Coffee Punk ✭ (@CoffeePunks) August 5, 2014
@WeAreSTV what's happened, have the english turned the internet off?

— Carpe Zytha (@CarpeZytha) August 5, 2014
The outage was all the more irritating as it was apparently quite a lively debate, with Darling pressuring Salmond on the question of what currency Scotland would use if it gained independence. Meanwhile, Salmond insisted that Scotland would be better off ruling itself than being subject to the whims of politicians in Westminster whom Scots themselves hadn't voted for.
BBC showed the debate nationwide the following day. ®
Sponsored: Becoming a Pragmatic Security Leader