Behold the HP Helion Lean cloud, and by Lean, it means not-OpenStack
Diet offering skimps on frills to keep costs low for lighter workloads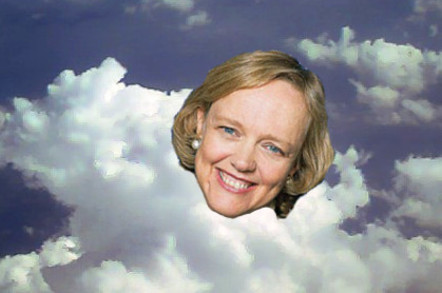 HP has unveiled a new offering in its private cloud service portfolio that offers a basic level of cloudy functionality while keeping costs down for budget-conscious customers.
The new service, dubbed HP Helion Managed Virtual Private Cloud (VPC) Lean, is designed both to attract new customers with a lower price point and to offer some existing customers a simpler service package where they don't need to worry about – or pay for – features they may not need.
When The Reg asked how VPC Lean differs from HP's earlier managed VPC offerings, company rep Jeff Moyer explained that the new service is really just a lighter-weight reformulation of HP's existing enterprise managed infrastructure-as-a-service (IaaS) suite.
"We've packaged a set of features and functions to get a lower entry point, as well as giving customers a lighter environment for them to get into VPC for workloads such as dev test that don't need that higher level of functionality," Moyer said.
Note, however, that despite the new Helion branding, Managed VPC Lean is not built on the same OpenStack-based cloud technology that HP has been touting for its Helion public cloud offerings. Rather, it's HP's own, older private cloud tech, albeit running on HP-owned equipment in HP data centers. Moyer said HP is working to integrate OpenStack with its VPC but couldn't share any details.
So what do you lose when you go the Lean route, versus HP's full-fat offerings? For many customers, the missing features will mostly be frills. For example, the base Managed VPC Lean offering doesn't include items like long backup retention times or offsite data replication. Storage is also configured as RAID 5 volumes by default – although customers can upgrade to RAID 1 mirroring if they're willing to pay for it.
In fact, HP offers a whole menu of options and upgrades for VPC Lean installations, ranging from IPSEC VPN connections for customers who want increased security, to high-availability compute clustering configurations, to backup and data retention schemes, to add-on SAP HANA storage appliances. The idea is to offer customers a baseline and allow them to build their own configurations from there.
Also new for Managed VPC Lean is a pilot trial service for customers who want to certify their applications for the cloud. HP's previous Managed VPC offerings allowed customers to test their software in "proof-of-concept" compartments with pre-canned configurations, but HP would need to migrate those installs to permanent homes before they could be put into production. With the Managed VPC Lean trial program, applications can go from testing straight into production use.
HP says Managed VPC Lean is available now globally starting at $168 per month for a small virtual server configuration – which we're told is around 40 per cent cheaper than HP's standard enterprise VPC pricing. Volume discounts are also available. ® 
Sponsored: Becoming a Pragmatic Security Leader