Android banking apps vulnerable to cash theft by CAS hole hackers
Toolkit Apache Cordova suffers cross-application scripting bug, IBM discovers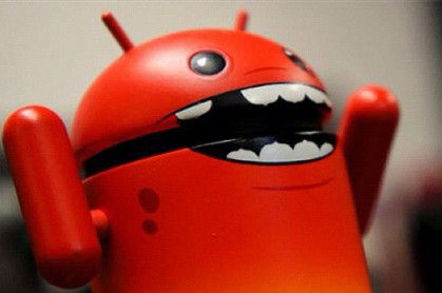 Hackers can swipe login credentials and other sensitive data from one in 10 Android banking apps, and about six per cent of all Android apps, IBM researchers warn.
Users should avoid using the vulnerable apps, which were built using Apache Cordova up to version 3.5.0, until they have been updated to squash the bug.
Big Blue's Security X-Force Research team has uncovered what it described as a "serious vulnerability" in Cordova, a toolkit for crafting mobile software using HTML, CSS and JavaScript. The utility kit was previously known as PhoneGap.
A cross-application scripting (CAS) hole allows miscreants to remotely run malicious JavaScript code in the context of a vulnerable Cordova-built app, IBM staffers say. It's possible to exploit other bugs within Cordova to then siphon off sensitive information, such as login cookies.
The CAS hole can be exploited by tricking a mark into visiting a malicious website using his or her Android tablet or smartphone: in a drive-by exploitation, the site can run code as if it was the attacked app with the same privileges and access rights as the installed software.
Left unfixed, the security bug can be abused to lift online bank account credentials that would give criminals the ability to withdraw or transfer funds from one bank account to another, we're told.
IBM Security's team privately reported the vulnerabilities to the Cordova project prior to going public on Tuesday, so a patched-up version of the framework is already available.
The security researchers "strongly recommend that all developers upgrade to the latest Cordova version (3.5.1)" as well as pay heed to mitigations outlined in an IBM white paper.
Rebuilt apps will also need to be released to users. The flaw only affects software on Android, and not on Apple's iOS.
According to AppBrain, the flaw affects 5.8 per cent of Android apps. Tests by researchers using IBM's AppScan Mobile Analyzer technology revealed that 25 out of 248 banking apps were built using Cordova. IBM Worklight, which uses Apache Cordova, has already been patched. ®