IBM furtles all-flash biz bruiser FlashSystem
SVC and Storwize compression built-in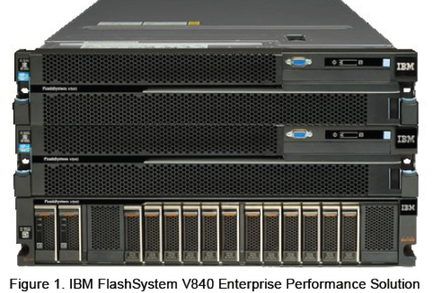 IBM has upped its all-flash array FlashSystem capacity to an effective 1.6PB by baking in SVC/Storwize features – including real-time compression.
The FlashSystem V840 release 1.2 is built from three 2U rackmount boxes: an AE1 storage enclosure (as used in the 840) and two active-active AC1 control enclosures.
The storage box can hold 12 flash modules with 1TB, 2TB or 4TB capacity, bringing raw capacity up to 48TB and configurable capacity to 40TB.
There can be up to eight of these in a FlashSystem configuration, making maximum configurable capacity 320TB, which is lifted to 1.6PB by achieving 80 per cent compression of data stored in the system.
A single FlashSystem V840 building block has two control enclosures and four of these can be grouped together using dedicated internal 8Gbit/s Fibre Channel switching, providing 160TB of configurable capacity. The overall system can have an additional four storage enclosures, giving us the 320TB configurable capacity number.
A single V840 can have up to five storage enclosures, providing 200TB of configurable capacity. A group of four V840s can have, effectively, two storage enclosures each for a maximum of eight (40TB) storage boxes and the 320TB capacity limit.
You cannot, according to IBM's guidelines, have four maximally configured V840s, each with five 40TB storage enclosures, 200TB per V840, thus providing a theoretical 800TB of configurable capacity and 4PB of after-compression capacity using IBM's 5X multiplier.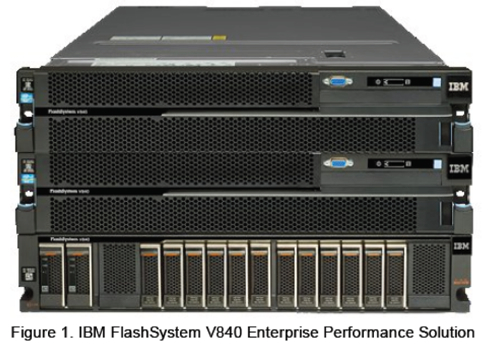 Click pic for bigger view
Perhaps a future V840 development might use InfiniBand and higher speed processors to go beyond the overall 320TB configurable capacity limit.
Real-time compression is an optional software feature. The AC1 Control Enclosure, fitted with a Xeon E5 v2 8-core processor, carries out its real-time compression work using a second Xeon 8-core E5 with 32 GB of memory and up to two optional compression accelerator cards for hardware-­assisted compression.
The compression accelerator cards double the compression IOPs and provide a 3.5X compression speed boost. It's obviously very intensive in processor usage terms. Encryption is also optionally available.
IBM is calling the FlashSystem's SVC/Storwize code "software-defined storage", but you can only buy the system on IBM's hardware platform, so don't go thinking you can buy the software and run it on your own sourced server controllers and flash JBOD enclosure.
The code supports three tiers of storage and IBM's Easy Tier data placement software, so as data cools and has lower access rate needs, it can be moved to nearline disk storage and then to some form of longer-term store.
Other data management features include replication, FlashCopy data protection, remote mirroring, thin provisioning and the virtualisation of attached third-party arrays. That makes them act as quasi-FlashSystem arrays and takes the overall usable capacity limit to an immense 32PB.
Accessing servers connect to the V840 via Fibre Channel cables.
The FlashSystem V840plays nicely with VMware, there being a vCentre plug-in, VAAI support and SRA for Site Recovery Manager. VVOL support is coming.
The FlashSystems are fast-selling arrays, according to Gartner, a bright spot in IBM's storage portfolio, and this new converged system will probably be accretive to Big Blue's business. As with other all-flash arrays – from EMC, Pure Storage and Solidfire for example – we can reasonably look forward to a capacity increase in the next six to 18 months as denser flash chips become available.
There's no pricing available yet but you can read up on the V840 in a Red Book (PDF). ®
Sponsored: From CDO to CEO