Kiwi satellite earth station recycled – as radio telescope
'First light' from four-year conversion project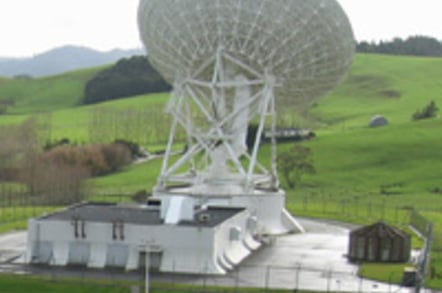 Auckland University of Technology (AUT) is celebrating "first light" from its new radio telescope – a 30m, 30-year-old former satellite Earth station that was once New Zealand's primary link to the outside world.
The AUT telescope is now getting ready for a mission studying star formation, the centre of the Milky Way, galactic gases, and tectonic plate motion on Earth.
As a communications system the Warkworth 2 dish's mission, when it was built in 1984, was to carry analogue telephony and TV signals. After decommissioning by Telecom New Zealand in 2010, the AUT began the long process of turning the system into a radio-telescope.
That process involved considerable engineering effort. As a geosynchronous satellite antenna, Warkworth 2 wasn't manoeuvrable enough for astronomy, so its azimuth limits had to be changed from ±170° to ±270°, which in turn meant changes to the motors and cables that move the 270-ton (imperial) instrument.
It also needed a new control system, and because of its seaside location, rusty components had to be changed.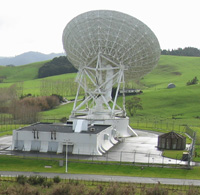 The Auckland University of Technology's

converted 30m satcom dish
The differences between the control system of a satellite communications antenna and a radio-telescope are also significant. Instead of tracking the small movements of a satellite, the dish has to track objects across the sky, and has to be able to shift from one object to another quickly. That's the task of an Integrated Antenna Controller (IAC), built from standard commercial components, cycling through its position control algorithms every four milliseconds.
The dish's surface also had to be laser scanned to compensate for what the university calls "a noticeable gravitational deformation of the antenna along the vertical direction" when the antenna was at an elevation of 6°. Further surveys of the surface are being undertaken to measure deformation in other configurations.
The dish's original satellite transceiver has been replaced by a C-band receiver from Jodrell Bank, and it's now fitted with a digital baseband converter covering five frequency bands up to 2100 MHz. The group's Arxiv paper notes that with the right receivers fitted the instrument would be able to carry out science at frequencies up to 22 GHz "and possibly higher".
The telescope is also networked to a nearby 12m receiver to increase its resolution.
The AUT has detailed the restoration and repurposing project here. ®