The Therapod diet: From humungo dino to tiny bird in 50m years
Look, ma, no gastric band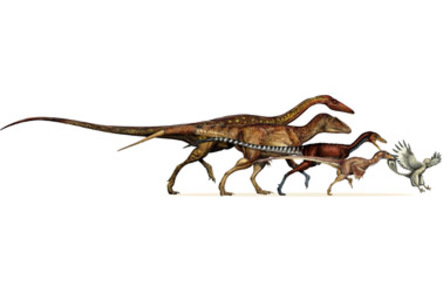 Video Terrifying dino-beasts from the family that spawned Tyrannosaurus rex kept shrinking and shrinking until they evolved into cute little birds, the whole process taking around 50 million years, according to palaeoboffins.
Certain members of the theropod family – which counts T rex and Giganotosaurus carolinii among its members, although the boffins note the two were not from the lineage that produced birds – just kept shrinking down over millions of years, sprouting feathers and wings along the way.
"Birds evolved through a unique phase of sustained miniaturisation in dinosaurs," said lead author associate professor Michael Lee from the University of Adelaide's School of Earth and Environmental Sciences and the South Australian Museum.
"Being smaller and lighter in the land of giants, with rapidly evolving anatomical adaptations, provided these bird ancestors with new ecological opportunities, such as the ability to climb trees, glide and fly.
"Ultimately, this evolutionary flexibility helped birds survive the deadly meteorite impact which killed off all their dinosaurian cousins."
The theropod bird ancestors evolved new adaptations like feathers, wishbones and wings four times faster than other dinos, but also evolved into mini-dinos that were close relatives of the bird.

From left to right are: the ancestral neotheropod (~220 Million years old), the ancestral tetanuran (~200 myo), the ancestral coelurosaur (~175 myo), the ancestral paravian (~165 myo), and Archaeopteryx (150 myo). Credit: Davide Bonnadonna
"The dinosaurs most closely related to birds are all small, and many of them - such as the aptly named Microraptor - had some ability to climb and glide," said Gareth Dyke of the University of Southampton, who co-authored the paper.
The researchers examined over 1,500 anatomical traits of dinosaurs to build their family tree and then used sophisticated maths modelling to trace evolving adaptations and body size over time and across subspecies. The ancestors to birds were the lucky ones, coming up with an evolutionary way to sidestep the unlucky asteroid that wiped out its brethren.
"Birds out-shrank and out-evolved their dinosaurian ancestors, surviving where their larger, less evolvable relatives could not," said Lee.
The full study, "Sustained miniaturization and anatomical innovation in the dinosaurian ancestors of birds", was published in Science. ®
Sponsored: Detecting cyber attacks as a small to medium business