HP storage revenue downturn? It's just a 'kink', says exec
A blip on the radar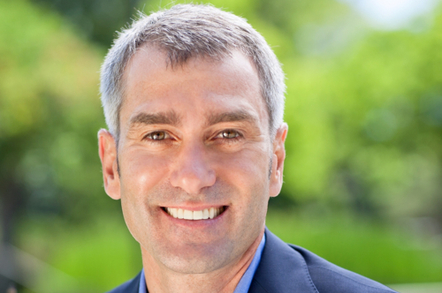 Analysis HP's first calendar 2014 quarter storage revenue downturn was a blip, according to the global head of its enterprise group – though analysts at IDC may not agree.
Bill Veghte, exec veep and GM of HP's Enterprise Group, was speaking about the calendar Q1 numbers that co-incide with HP's second fiscal quarter.
He told us the worst three months for juicy high-end storage for some years "was nothing more than a kink", before adding "we took share in storage".
Why did this blip happen? "[Our specialists] that follow the storage market say this happens periodically, this is not the first time, and they would generally attribute it to a set of inflection points - flash, some disk drive changes, and then of course cloud."
IDC in its Storage Tracker thought that the first calendar quarter of 2014 saw a virtual buyers' strike for high-end storage, which would chime in with Veghte's statement.
The beanie said the market as a whole declined 6.9 per cent year-on-year in revenue terms.
IDC said HP's revenue share for total storage products (internal and externally attached storage) declined by 8.8 per cent – more than the market. Only NetApp gained share in the quarter, according to IDC's number crunchers.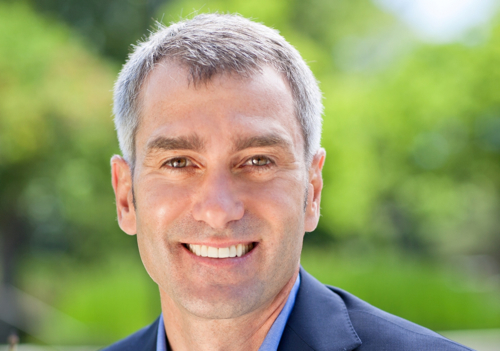 Bill Veghte
What can we deduce from a chart showing HP's quarterly storage revenues?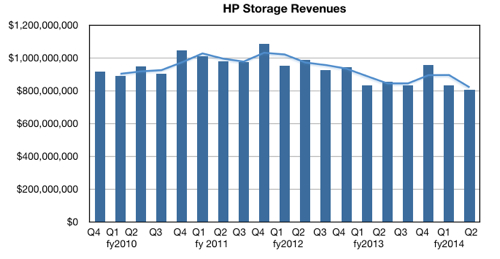 Since a revenue peak in the fourth fiscal 2011 quarter of $1.1bn, they have decreased - and a trend line demonstrates this. Fiscal 2013's fourth quarter stands out - $960m, better than the $950m in the earlier year. But otherwise the annual quarter storage revenue compares show what looks like a downward trend.
This chart refers to all of HP's storage revenues and not just the high end where HP's 3AR systems could well have taken share, as Veghte claimed. They and other HP storage products will have to take quite a lot of share though, to counter the overall trend in HP's storage revenues. ®