EMC promises 'lots' of news about converged compute at VMworld
Has VMware's MARVIN morphed into VMCI?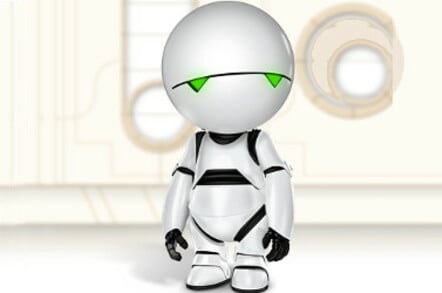 VMware's rumoured "MARVIN" converged infrastructure product has piqued the interest of the virtualisation community, because despite winning a trademark for "Computer hardware for virtualization" the company insists it is in the software business.
Plenty of speculation has since suggested MARVIN is probably something a bit like a Nutanix clone. Or maybe even an acronym, perhaps for Massive Array of Redundant Virtualised Infrastructure Nodes.
Now EMC veep and chief technology officer John Roese has told an EMC Forum in Sydney that something is afoot. During his keynote, Roese explained the common mode of connecting an application to a storage area network and then to an array is changing. During his discussion of those changes he explored emerging practices that see compute and storage share the same hardware and promised 'lots' of news on this front at VMworld, which kicks off on August 24th.
That could be news of EMC's rumoured hyper-converged project Mystic. Or maybe it is MARVIN.
Whatever Roese was referring to, Maish Saidel-Keesing's Technodrone blog has spotted another hint of a hyper-convereged offering on the VMworld schedule.
The session is titled Enterprise Grade Elastic IaaS Cloud with VMware Hyper-Converged Infrastructure: A Deep Dive and concerns something called "VMware-powered Converged Infrastructure solution (VMCI) that ties together hardware and software components under a single virtualization umbrella to offer a single point of-entry for a Software Define Data Center (SDDC)."
It also mentions converged infrastructure products that offer "a pre-integrated and optimized bundle of hardware and software across networking, compute servers, and storage typically combined with virtualization, management, and other software".
The session description also promises to focus on "Infrastructure-as-a-Service (IaaS) and provides an in-depth description of a simplified, automated approach to IaaS workload provisioning and deployment using VMCI."
Saidel-Keesing notes that VMware Converged Infrastructure could deliver an acronym of VMCI and that VMware does indeed offer something with that name, but that it's currently used for "Virtual Machine Communication Interface".
There's no direct link to MARVIN hinted at in the session description, but the session description has plenty of overlap between VMCI and MARVIN. And with Roese' Sydney remarks in the mix, betting on some kind of announcement about converged infrastructure at VMworld looks increasingly safe. ®