VMware builds product executables on 50 Mac Minis
And goes to the Genius Bar for support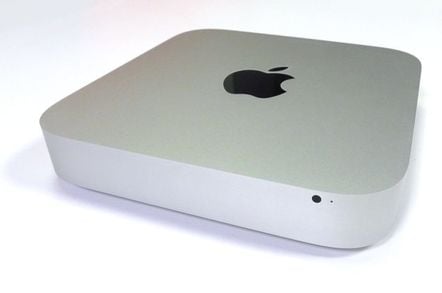 VMware runs a cluster of 50 Mac Minis and puts it to work preparing the executables and binaries that customers receive when they acquire the company's products.
We're standing on the shoulders of William Lam's Virtually Ghetto for this story, after he delved into production uses of Mac hardware in an VMware environment. He eventually tracked down Mike Lemoine, Virtzilla's senior tools and infrastructure engineer, who explained that "the only 'real builds' are the ones that go through this infrastructure. If it didn't go through our machines, it doesn't get released to the world."
Lemoine says the Minis do the job tolerably well, but that their hard disks aren't designed for business workloads so tend to be the machines' weak point. When they break, "One of the guys in our datacenter will pull the machine and take it to the Genius Bar, where they will tell us what we already know and replace the drive."
He adds that "Our Minis are all running ESXi off of USB sticks, so losing the drive isn't much of a hurdle."
Using Mac Minis in this way isn't hard. Lemoine told Lam that "the amount of information you need in order to get ESXi running on a Mac Mini would probably fit on an index card," although there are some "gotchas … for your combination of ESXi version and Mac Mini revision."
It looks a little odd that a $6bn concern like VMware is using consumer-grade kit for important chores like building OS X and iOS applications. After all, the company has partnerships with top server-makers, deep pockets and a customer-facing hybrid cloud that would be laughed out of business if it used Mac Minis.
Lemoine counters by asking "In what other situation can you have an entire spare server on hand for $1200?" And get that server all weekend, over the counter.