Veeam's vigorous voyage vindicates virty servers' backup virtues
Firm reckons breakneck customer growth rate's continuing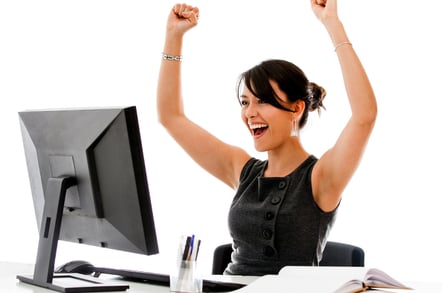 Ve have vays of making vast sums of loot! That's virtual server backup and data protection upstart Veeam for you, reporting 30 per cent revenue growth in the first half of 2014, and a customer count passing 111,500.
The firm said the second quarter of fiscal year 2014 was the 26th one in a row with double-digit growth on a year-on-year basis.
CEO Ratmir Timashev said in a prepared remark: "The second quarter capped a solid first half of the year for Veeam with strong revenue growth, several new product announcements, and consistent growth of our partner ecosystem. As we enter the second half of 2014, we anticipate a continued growth trajectory."
He reckons: "The [coming] Veeam Availability Suite [v8.0] will further enhance the ability of our customers to achieve a complete modern data centre and ensure their critical applications remain always on from any place, at any time, on any device."
This software will be available in the fourth quarter and should provide lots mote functionality:
Faster recovery

Instant VM Recovery
Instant File-Level Recovery
v8 Veeam Explorer for Microsoft Exchange, SharePoint, SQL Server, Active Directory
v8 Veeam Explorer for Storage Snapshots (HP and NetApp)

Shorter RPOs meaning, Veeam says, better data loss avoidance

Recovery Point Objectives (RPO) less than 15 minutes
2-in-1: backup and replication
Built-in WAN Acceleration
Native tape support
v8 Backup from Storage Snapshots (HP and NetApp)
v8 EMC Data Domain Boost
v8 Veeam Cloud Connect
v8 End-to-end encryption
v8 Replication enhancements

Verified protection through automated backup and disaster recovery testing
More protection visibility through improved monitoring and alerting tools
Complete visibility of the Veeam backup infrastructure
vSphere Web Client Plug-in
vCloud Director integration
Centralised management
It had more than 100,000 customers at the end of March so it looks like a nominal 11,500 new customers have come on board in the last three months, which appears to be a continuation in its breakneck customer growth rate:
Q2 2014 –> 111,500 , +11,500
Q1 2014 –> 100,000, +8,500
Q4 2013 –> 91,500, +11,500
Q3 2013 –> 80,000, +7,000
Q2 2013 –> 73,000
If backup is a replacement market these days then Veeam is replacing a hell of a lot of legacy backup products. It could be being viewed as a prime buyout target by legacy backup vendors feeling the heat from its flames.
The one thing we cannot tell you about Veeam is how profitable the privately-held company is, because it simply did not release that figure. ®
Sponsored: Becoming a Pragmatic Security Leader