BT consumer biz saves day: Grr, if it weren't for that meddling Ofcom
Broadband spares the red faces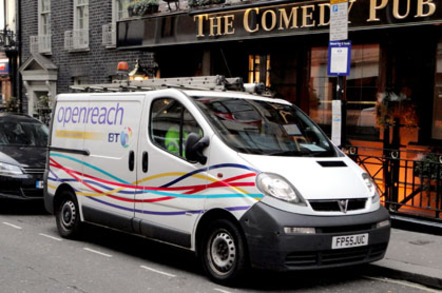 Former state-owned telco monopoly BT reported top line declines across the majority of operations for the opening three months of its new financial year with only the consumer biz - fuelled by broadband demand - bucking the trend.
Sales for Q1 ended June were two per cent adrift of revenues in the same period a year ago at £638m, but still ahead of analyst consensus forecasts which gave rise to a mini uptick in the share price.
Once again, BT Wholesale was the biggest drag on sales, down a hefty 18 per cent to £525m year-on-year on the back of a steep dip in managed solutions, broadband and classic calls, lines and circuits revenues. Order intake was £264m versus £509m a year ago.
BT shrieked that "Ofcom's Narrowband Market Review and the migration of services off a previously terminated contract again impacted" the numbers.
The Openreach unit made no progress year-on-year, with turnover unchanged at £1.24bn. BT reckons the regulatory price revamp cost it £40m and expects the impact to be more marked in Q2 as the remaining Fixed Access Market Review controls come into play.
During the quarter, the firm passed more than 20 million premises with fibre broadband roll out, 341k net fibre connections (up 29 per cent), taking the total number of homes and businesses connected to more than three million, 15 per cent of those passed. Overall DSL and fibre broadband net additions was down 14 per cent to 163k.
Next up in the sales shame stakes was Global Services, which fell six per cent to £1.64bn as growth in Asia Pacific, Latin America and the Middle East and Africa offset "declines elsewhere, including the UK public sector".
The division was "negatively impacted" to the tune of £68m due to foreign exchange juggling, the order intake crashed 38 per cent to £1.1bn.
Turnover in the Business arm, which includes the reseller operations, was down three per cent to £762m; biz call and lines volumes fell eight per cent partly due to the move to VoiP; corporate and SME data and networking sales came in flat; and IT services fell by two per cent and was branded a "disappointing performance".
Operating costs fell five per cent and "labour resources", otherwise known as human cannonballs were fired toward the dole queue, with a nine per cent drop in headcount.
And so it was left to the Consumer sub to make BT's number relatively respectable, growing ten per cent to £1.046bn, driven by a 26 per cent rise in broadband and TV revenues.
Consumer line losses of 69k were 46 per cent better than last year, and BT brought on board 104k retail broadband punters, some 64 per cent of the DSL and fibre broadband market net additions in the quarter. BT said it signed up 26k retail fibre customer, up 15 per cent, taking the total to more than 2.3m.
Some 40k BT TV customers joined in the quarter but the company removed 35,000 inactive customers in the period in a move to expunge legacy set-top boxes, which as expected resulted in "customer churn".
Group operating profit crossed the line up 12 per cent to £739m. ®
Sponsored: Becoming a Pragmatic Security Leader