Google Hangouts get down to business – and all dressed to the nines
A whole three of them ... plus phone support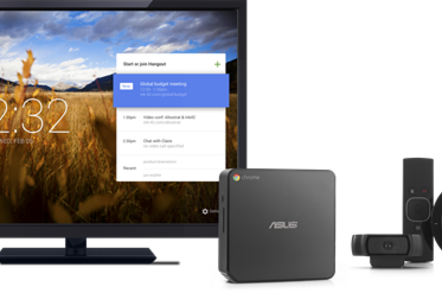 Google's voice conference system Hangouts is being smartened up in the hope of breaking into the business market.
Google will put Hangouts on a par with the rest of its stuff online – and promises 99.9 per cent uptime with 24/7 telephone support if something does go wrong. In addition, Hangout users will no longer need a Google+ account to use it, and will be able to use the video features with Blue Jeans and Intercall conferencing systems.
In a blog post, Clay Bavor, veep of product management at Google Apps, said the firm hoped the changes would make business more likely to use Hangouts for important meetings – and that there would be more enterprise-friendly moves coming later in the year, such as integrating with Google Apps Vault.
Over the next couple of months Google will also make some changes to its Chromebox for Meetings videoconferencing system to make it more professional. The visual side of the software is being beefed up so that each Chromebox can run two monitors – one for videoconferencing and another for presentations.
IT managers will also get extra tools to start, moderate and end Hangouts remotely with a new control console. The calendar function has also been tied into Hangouts for meeting schedules.
Chromebox is also opening up internationally, Bavor said. Chromebox already works in the US, Canada, and Australasia, and in the next few weeks the UK and Japan will be added. By September Dell will also start selling Chromeboxes, joining HP, Asus, and Samsung. ®
Sponsored: Detecting cyber attacks as a small to medium business