Joe Average isn't worth $10 a year to Mark Zuckerberg
The Social Network deflates the PC resurgence with mobile-only usage prediction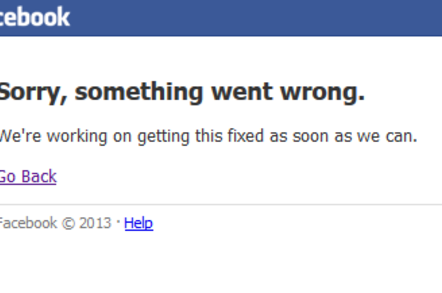 You're not worth $US10 a year to Mark Zuckerberg.
That's one of the many factoids revealed in The Social NetworkTM's new Form 10-Q (PDF) filed last Friday.
One item of interest is that the US Securities and Exchange Commission (SEC) has decided not to investigate Facebook's 2012 float.
The Social Network's big day was spoiled a little by some technology hitches on NASDAQ that, as the firm reports in its
The 10-Q states that "In May 2014, the Securities and Exchange Commission (SEC) notified us that it had terminated its inquiry and that no enforcement action had been recommended".
The filing also notes that Facebook is "also party to various legal proceedings and claims that arise in the ordinary course of business," including some legal fun with patent trolls non-practicing entities.
Facebook is shrugging off those actions, stating "we believe that the amount or estimable range of reasonably possible loss will not, either individually or in the aggregate, have a material adverse effect on our business".
Another interesting factoid in the filing points out the USA remains the dominant source of cash for the company, with $US1.26bn of the $2,91bn brought in during the 30 days to June 30th coming from the land of the free. There's no other line item for nations as sources of revenue because "No individual country exceeded 10% of our total revenue for any period presented."
There's also some nasty news for those predicting a PC sales resurgence in the analysis that "We believe that use of Facebook through personal computers will continue to decline worldwide, including in key markets such as the United States and other developed markets in Europe and Asia". For now, PC-based users are ahead of mobile users by 829m to 654m, but Facebook says 488m of the latter access the service only with a mobile device.
With use on mobile devices rising 39 per cent over the last year, it's clear the shift is on.
But even with all those hordes networking furiously, average revenue per user (ARPU) is $2.24. Per QUARTER. So not even $10 a year,
Of course that's the average and the 10-Q points out that ARPUs are heading up nicely in developed nations.
But the company also says "User growth was more rapid in geographies with relatively lower ARPU, such as Asia and Rest of World."
"We expect that user growth in the future will be primarily concentrated in those regions where ARPU is relatively lower, such as Asia and Rest of World, such that worldwide ARPU may continue to increase at a slower rate relative to ARPU in any geographic region, or potentially decrease even if ARPU increases in each geographic region".
If those predictions are accurate, it may be some time before any nation other than the USA deserves its own line item as a source of revenue, no matter how many users Facebook can accumulate. ®