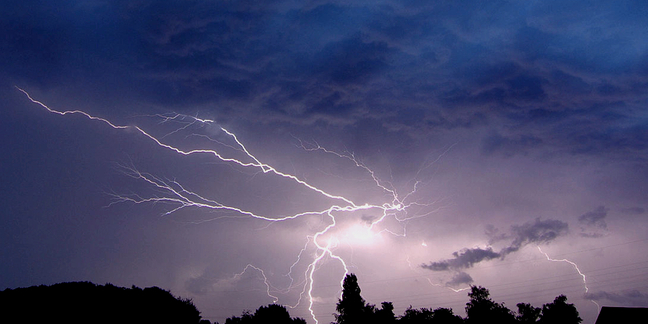 Comment There's a prospect coming into view of Microsoft's Azure cloud offering passing Amazon's AWS in cloud revenues. Fancy that.
Azure grew its commercial cloud services revenue 147 per cent on an annual basis in the second quarter of 2014, and has an annualised run rate of $4.4bn. So says financial analyst Aaron Rakers, the MD of beancounter haus Stifel Nicolaus.
He adds Redmond "reported a 2x yr/yr increase in storage for Azure and a 3x increase in computing."
And Amazon's AWS? Rakers reckons its AWS revenue growth rate slumped, causing Amazon's Other revenue category to grow only 36.5 per cent in the same quarter.
Rakers has charted the AWS and Azure growth rates and here's the graph: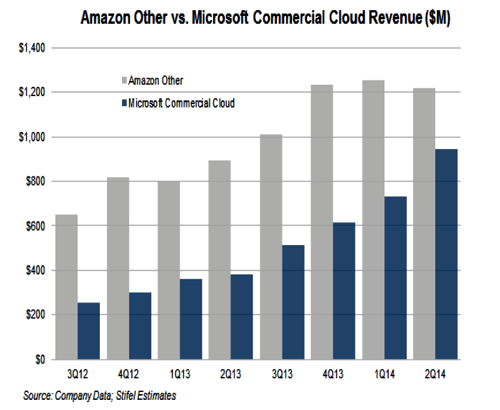 Source: Aaron Rakers, Stifel Nicolaus
We know Google's non-advertising revenues – Nexus devices and revenue from its apps and cloud services – in the second quarter were up 53 per cent from the year-ago period. The actual Google cloud revenues were not broken out.
There was an estimate Google's cloud business was seeing $200m revenues in the second quarter of 2013. A 53 per cent uplift would make that around $300m in the second quarter of this financial year, which compares poorly to Raker's reckoning of Azure's $946m and Amazon's more than $1.2bn in the quarter.
Can Azure sustain this growth rate? The prospect of overtaking AWS cloud revenues will excite the blood of Microsoft execs – they'll call it a triumph and boast Bezos can be beaten. By extrapolating the trends on the chart we could - and here El Reg emphasises that "could" - see it happen in the fourth quarter of FY2014.
Let battle be joined. ®
Sponsored: Practical tips for Office 365 tenant-to-tenant migration