Boffins build FREE SUPERCOMPUTER from free cloud server trials
Who cares about T&Cs when there's LIteCoin to mint?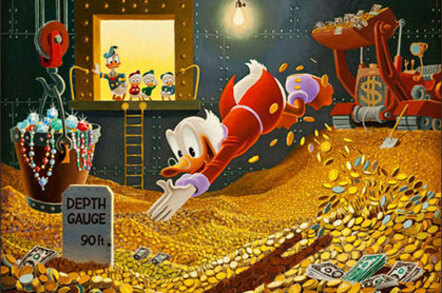 Researchers Rob Ragan and Oscar Salazar have built a free LiteCoin-mining botnet that generates $US1750 a week using free cloud signup promotions.
The pair will outline the exploit at Black Hat next month, but have blabbed to Wired about how they used automatic tools and processes to spread a currency-mining botnet across some 150 popular free services that each generated about 25 cents a day -- all on the providers' electricity bill.
LiteCoin became the pair's crypto-currency of choice because BitCoin is hard to generate without graphical processing units these days.
The duo will demonstrate their bot and release the tools required to build one at Black Hat in Las Vegas next month, along with some defensive mechanisms cloud providers could deploy to fend off freeloaders.
The attack worked because of cloud providers' ongoing efforts to recruit customers with free promotions. It appears that none of the providers the pair targeted took much interest in what the researchers were doing with their free servers.
"A lot of these companies are startups trying to get as many users as quickly as possible [which are] not really thinking about defending against these kinds of attacks," Salazar told Wired.
The bot was bult on free and fast tools including Mandrill and FreeDNS.afraid.org for email address registration, variations on public data breach databases, a custom program on Google App Engine, and the Python Fabric to manage scripts controlling the hundreds of cloud instances.
To keep the lawyers off their backs, Ragan and Salazar terminated most of their fraud bots leaving a handful to mine coins to test the failed defenses of cloud providers. It was unclear if freeloading off free cloud subscriptions would breached various computer crime laws which range from vague to non-existent, but it likely breached terms and conditions nine ways to Sunday. ®