World Solar Challenge contender claims new speed record
One charge sees Sunswift travel 500kms at over 100 km/h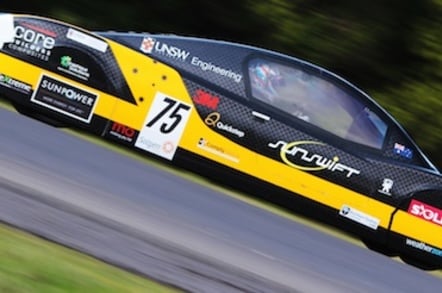 The University of New South Wales' Sunswift, the third-placed car in the Cruiser class of the 2013 World Solar Challenge, claims to have set a new record for the swiftest single-charge traversal of a 500km course.
The record attempt took place on Wednesday at the Automotive Research Centre's 4.2km track. Sunswift travelled 500km at an average speed over 100km/h, without stopping to charge batteries. Nor were the vehicle's solar panels switched on: the car ran on battery power alone and did not attempt to slurp the sun during the run.
The Sunswift team believe the car used in the test will be street legal in Australia next year.
International auto records boffins have to sign off the record - apparently it awaits "Fédération Internationale de l'Automobile homologation" - before being made official, but the Sunswift team is confident enough it has claimed the title to contact The Reg, among other media outlets. And careful enough to remind us to mention the homologation.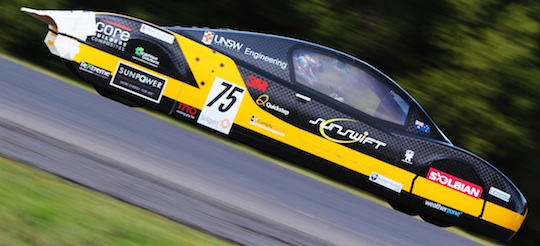 The Sunswift solar car burning rubber, and battery capacity
The World Solar Challenge's Cruiser class is open to vehicles that emulate a conventional passenger car. Entrants are judged on time and the level of amenity they offer to drivers and passengers. Sunswift is therefore not an out-and-out racer, but is instead built for comfort. Not so comfortable, though, that the speed run took passengers along for the ride: the record was achieved with a professional driver behind the wheel. ®
Sponsored: What next after Netezza?