FRIKKIN' LASERS could REPLACE fibre-optic comms cables
Fire a laser, make an air tube, do stuff. Simple, innit?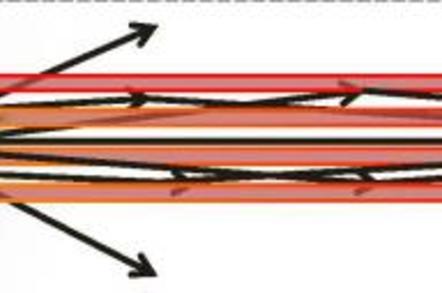 You may think that a waveguide is something issued to junior members of the royal family ahead of their first pomp parade through London. But it's actually a new communications technique that makes the air behave like a fibre-optic cable.
Howard Milchberg, professor of physics and electrical and computer engineering at the University of Maryland, has published a paper describing a trick which can transmit light beams over relatively long distances without loss of energy.
As most Reg readers will know, fibre-optic cables work by bouncing a light beam along a strand of glass without any loss of focus or intensity, allowing information to be transmitted along huge distances at high speeds.
Michelberg's waveguides mimic fibreoptics, but are instead made by creating a wall of low-density air surrounded by a core of much denser air.

To summon these tubes, Milchberg fired short, powerful laser pulses through the air. These heated the air as they passed through it, leaving behind a filament which is less refractive than the air around it.
This tiny tube lasted just a few milliseconds; a million times longer than the laser pulse itself. A second beam can then be sent along the tube formed by the laser.
According to Milchberg, "milliseconds is infinity" when it comes to lasers.
"It's like you could just take a physical optical fiber and unreel it at the speed of light, put it next to this thing that you want to measure remotely, and then have the signal come all the way back to where you are," he explained.
To test his theory, Milchberg created a spark by breaking down the air with a laser. Some of the light created by this spark was then blasted along a waveguide to a detector a metre away. This signal was strong enough that the contents of the light could be analysed to identify the chemical composition of the air in which the spark was created.
All Milchberg needs to do now is prove the method can work over longer distances. If it works, the discovery could come in handy for sending long-range laser communications, detecting pollution in the atmosphere or making high-resolution maps. It could even find a use in laser weapons.
The American military has previously shown interest in sending messages over the air, using "mobile optical links" which are "imperative for secure quantum communications capabilities".
Milchberg's research paper is called Collection of remote optical signals by air waveguides and is published in the journal Optica. ®