EMC revenues are up. But, hey Joe, I heard you shot your profits down...
Second quarter results: It's good, and it's, er, not so good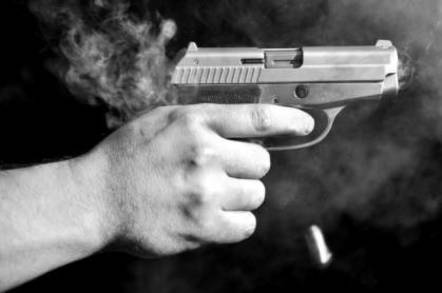 EMC sold a record $5.9bn of products and services in its second 2014 quarter, representing a stately five per cent year-on-year increase in sales - and a $400m boost over the first quarter of this year.
EMC's second quarter revenues are generally higher than its first quarter. Net income was $589m, 16 per cent down on profits a year ago but 50 per cent higher than the first quarter's profits.
The EMC federation (EMC Information Infrastructure + VMware + Pivotal) chief, Joe Tucci, said in a statement from the canned quote factory: "Our industry and customers are in the midst of a massively disruptive and transformational shift, and the pace of change is accelerating. EMC detected it early on, put the right strategy in place and is executing well."
If we plot the Q2 revenue and profit numbers for the past four years we get a steadily rising revenue staircase: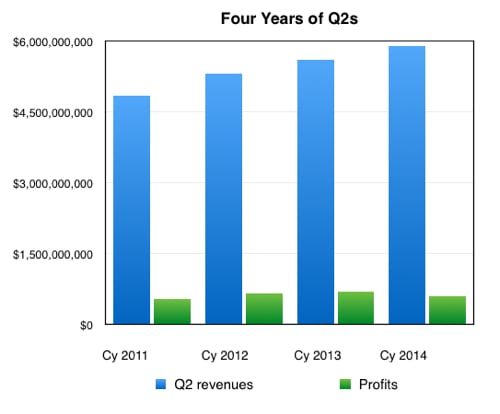 Like a revenue staircase rising – 4 years of EMC Q2 results. Profits are up and down though.
EMC's board has approved an acceleration of EMC's share buyback plan for 2014 from $2bn to $3bn. With this and the increased dividend announced in the first quarter, EMC expects to return more than $7bn to shareholders over the course of 2013 and 2014; a fact which may well please activist investor Elliott Management.
Tucci's CFO and Information Infrastructure CEO David Goulden had a canned quote ready too: "EMC performance in Q2 was solid and on track, with good performance from each of our major business units. We … remain confident about the rest of the year."
The overall EII revenue was up just one per cent on the annual compare. Excluding the high-end VMAX storage business, Information Storage revenue grew seven per cent year over year, which EMC points out "is faster than the industry growth rate." A recent refresh of the VMAX range should put that slow growth to rights.
Other EII details:
Emerging Storage revenue grew 52 per cent annually, based on demand for XtremIO all-flash storage array, ViPR software-defined storage and Isilon scale-out storage.
EMC claims clear leadership in the all-flash array market; XtremIO has surpassed a $300m annualised demand run rate in its second full quarter of availability.
ViPR customer numbers doubling in the second quarter compared to the first quarter.
Data Domain had a strong quarter and the Data Protection Suite achieved double-digit revenue growth both sequentially and year over year.
RSA Information Security revenue grew six per cent year over year, with Security Analytics and Archer each up over 20 per cent in the second quarter.
Demand for VCE Vblock systems showed "very strong year over year growth."
As expected the Information Intelligence business (Documentum etc) was not singled out for its growth. Maybe it should be combined with the big data analytics stuff and merged into that technology?
Pivotal grew revenue 29 per cent year over year. VMware revenues were up 17 per cent year over year.
EMC expects full 2014 revenues to be around $24.6bn; they were $23.2bn in 2013. With third quarter revenues likely to go significantly past $6bn and fourth quarter ones likely to sail on beyond the $7bn level, both bulked up by resurgent VMAX revenues, this is a company currently on fire. ®