Shields up! Nvidia crams Tegra K1 into gaming slab to rival your PS3
Android fondleslab to stream action from PCs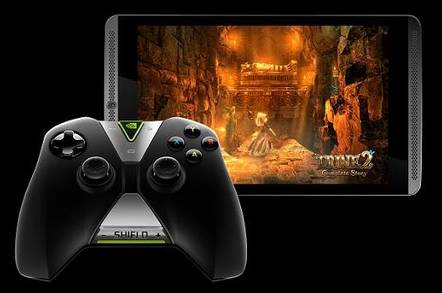 Nvidia is touting a new 8-inch, Tegra K1-powered Android tablet as a gaming gadget for hardcore players.
The graphics biz said its Shield slab was designed to offer punters high-end games performance on the move, with support for Android games and streaming PC titles when connected to desktops with Nvidia's GameStream tech.
Unlike other mobile devices which have generally been considered "casual" gaming platforms, Nvidia hopes its Shield will appeal to the hardcore gaming demographic drawn to desktops and consoles.
The 1080p touchscreen tablet uses a games controller, and will be available with 16GB and 32GB capacities with additional MicroSD expansion. The 32GB fondleslab will be equipped with both Wi-Fi and LTE connectivity (the 16GB model is Wi-Fi-only) and will be powered by Nvidia's much-hyped Tegra K1 system-on-chip.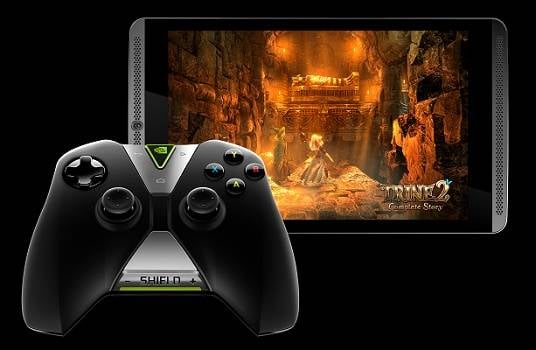 Nvidia is hoping to win over hardcore gamers with the Shield Tablet
At the 2014 CES conference in January we were told the Tegra K1 will sport 192 Kepler GPU cores, eight CPU cores and full support for Nvidia's CUDA GPU language. Nvidia has compared its performance to that of last-gen consoles, namely the PlayStation 3 and Xbox 360.
The K1 in the new Shield has a, presumably eight core, 2.2GHz ARM Cortex-A15 CPU, as well as the 192 Kepler cores. The tablet also has 2GB of RAM, mini-HDMI output, motion sensors, GPS, Bluetooth 4 LE, front and back 5Mp cameras, a 19.75Wh battery, and Android Kit Kat (4.4) operating system.
"If you're a gamer and you use a tablet, the Nvidia Shield tablet was created specifically for you," insisted Nvidia CEO Jen-Hsun Huang in announcing the slab.
"It delivers exceptional tablet performance and unique gaming capabilities to keep even the most avid gamers deeply immersed, anywhere they play."
When the Shield reaches gamers, it will take over the high-end of an Nvidia Shield hardware line, which was launched last year when the company released the Shield hand-held system. The hand-held combines a console-like gaming controller with a flipable 5in integrated screen.
The company plans to sell the new tablet later this year, with retailers in the US, Canada and Europe now accepting preorders. The tablet will start at $299, while the wireless games controller will cost $59 and the cover/stand $39. ®