Apple orders huge MOUNTAIN of 80 MILLION 'Air' iPhone 6s
Bigger, harder trouser bulges foretold for fanbois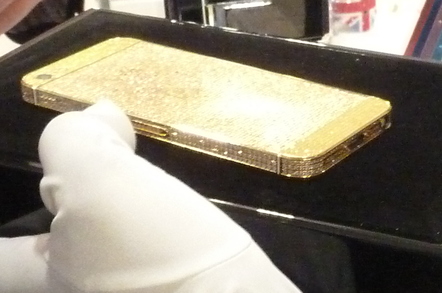 Apple has told its suppliers to build a mighty mountain of 70 to 80 million new iPhone 6s. The new Jesus handset is expected to come in two sizes and arrive this year.
This means that the number of brand-new iPhones could match the population of Germany, which is inhabited by slightly more than 80 million souls, and totally outstrip Iran and the UK, which have populations of 77.6 million and 64.1 million people respectively.
According to secretive sources whispering to the Wall Street Journal, up to 80 million 4.7-inch and 5.5-inch sixth-gen iPhones will be on sale by December.
It looks likely that these models will come in a range of colours familiar to owners of the garish iPhone 5C or the rather more sophisticated gold or gunmetal-grey 5S.
To make up for future demand or replace failed models, Apple has called for the production of 120 million iPhones by the end of 2014.
It is thought that many fanbois have held off upgrading in recent years, perhaps because changes to the iPhone stable have been incremental at best – or negligible, if you want to be unkind.
The new model will be difficult to build, particularly if rumours about its reliance on Sapphire Glass are to be be believed. This tough material can withstand the attentions of a frenzied knifeman, which should mean it can stand being jangled around fanbois' pockets without getting scratched.
It is expected that both models will use in-cell production technology, allowing them to be built with a thinner profile.
Indeed, some of El Reg's chums are already calling the new mobe the iPhone Air. Or perhaps, the iWaif. ®