CAIDA to survey peers, colo sheds and ISPs for new map of internet
Also changes name from CAIDA to CAIDA, just to confuse things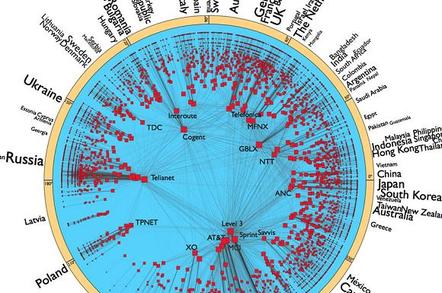 CAIDA – the group of router boffins established at the University of California to research 'net traffic and look for solutions to threats to Internet stability – has given itself a new name.
If you're thrifty with your letters and don't want to learn a new acronym, you'll be pleased to know that the name change is from the Cooperative Association for Internet Data Analysis, to the Centre for Applied Internet Data Analysis – meaning CAIDA is still, well, CAIDA.
The change comes as the "Internet cartographer" lays out its 2014 program plan, announcing a plan to start researching how colocation, peering, CDNs and their relationship to ISPs is changing how congestion is manifested in the modern Internet.
CAIDA also plans to launch a new research project detecting outages, which it plans to put into service by the end of 2015; along with new research to model and measure IPv6 deployment.
The project plan is outlined here and the full plan is here.
CAIDA is best-known for its Ark – short for Archipelago – project, which monitors the Internet's structure and communications. Ark will get monitors in 200 new locations, the group says, and will be expanded with an associated project called Dolphin. This will use bulk DNS lookups to add hostname annotations to Ark's topology data.
In 2010, CAIDA experts suggested that new routing techniques will be needed before 2020 to prevent the collapse of the Internet. While the 'net is uncollapsed four years later, it's worth noting that one of its predictions, an increasing number of "black hole" routing events, seems to have been accurate. ®