HP CEO Meg Whitman dons TRIPLE CROWN of POWER
Former eBay boss now CEO, pres AND chairman of tech titan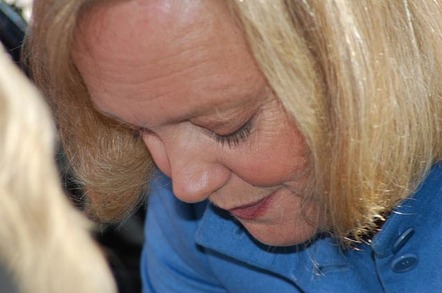 HP CEO and president Meg Whitman has consolidated power at the top of the corporation by taking on the role of chairman as well.
The manoeuvring comes days after HP confirmed that Ralph Whitworth is to step down due to health concerns, the exact nature of which were not revealed.
Whitman joined HP's board at the start of 2011 and led turnaround efforts following the disastrous but brief reign of her predecessor, Leo Apotheker, under whose guidance the firm's share price crashed.
"Meg has been an outstanding leader since coming to HP, and we believe that as chairman she can most effectively drive the turnaround and continue to build value for our shareholders," said Gary Reiner, chairman of the Nominating, Governance and Social Responsibility Committee.
The former eBay boss is more than half-way through the multi-year turnaround that began in 2012 and though profits are improving, getting top line growth firing again is proving more challenging for HP, as it is for rival IBM.
But Whitman has certainly got the channel onside, put rules of engagement in place to govern the direct sales reps and improved results will likely take more time to materialise in the financials.
At the same time, Pat Russo, an HP director since 2011, was elected to become lead independent director. She controls the HR and Compensation Committee and is a member of Nominating. She was previously boss of Alcatel-Lucent from 2006 to 2008.
Former Siemens exec Klaus Kleinfeld, currently CEO and chairman at Alcoa, has been voted onto the board of directors, taking to total to 12. ®
Sponsored: What next after Netezza?