Say goodbye to landfill Android: Top 10 cheap 'n' cheerful smartphones
Holiday handsets you can afford to lose
Sony Xperia E1

Although Sony want 100 quid for it, I've seen the E1 going for as little as £65 on PAYG. Yet despite its pocketable price, this Xperia boasts a half-decent chipset in the form of the Qualcomm MSM8210 Snapdragon 200 which features a dual-core 1.2 GHz Cortex-A7 chip and Adreno 302 GPU. Like the Moto E, the Xperia E lacks a webcam, a fact that's either an irrelevancy or a deal breaker depending on your need to take selfies or make video calls.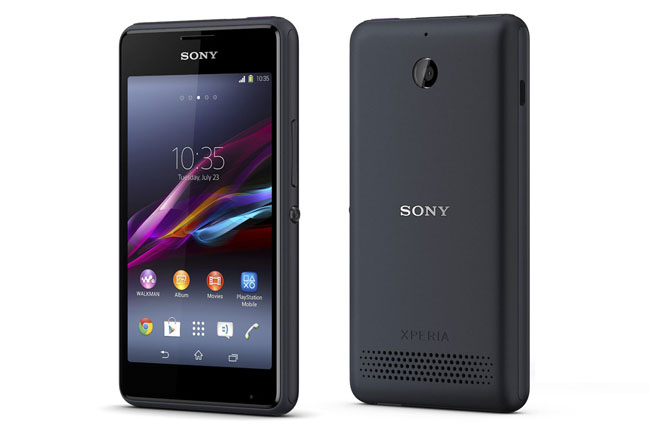 The feature that may tip you towards the E1 is the Walkman music player. Not only does this look and sound good (for a cheap device the speaker is rather good too) but there's a launch button for it on top of the device too. This makes it a very convenient little gadget if you are looking for a phone that is destined to spend most of its time being used an an MP3 player.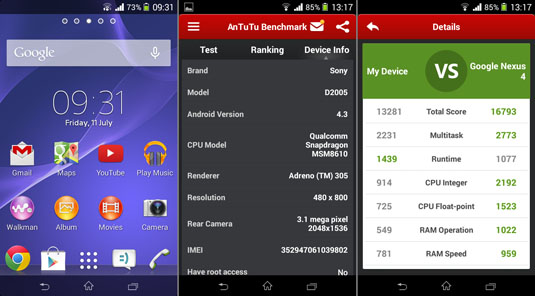 Homescreen and AnTuTu device info and rating – click for a larger image
There are a few drawbacks though. The 3.15Mp camera is low rent and there's only 512MB of RAM – which rather limits the smoothness of the UI and indeed the performance of the device as a whole.
The 480 x 800 4-inch TFT display is a bit ordinary too, if a cut above the Archos and Vodafone devices. In the plus column it's light, at a piffling 120g, there's a microSD card slot and a removable 1700mAh battery. You also get Sony's excellent Movies and Album apps to complement the Walkman. Sony has also announced that the E1 will get a bump from Jelly Bean to KitKat. All in all the Xperia E1 is much better than the price would suggest.
Price £100
More info Sony
Vodafone Smart 4

Carrier-branded smartphones are becoming a thing of the past in the UK and a good thing too, I say. But if Vodafone's Smart 4 is the last of the breed at least it goes into the dark with a small hoorah. For your 75 bucks you get a 4.5-inch FWVGA screen, a webcam, KitKat, a 1.2GHz dual-core Qualcomm processor with 512MB of RAM and Adreno 305 GPU, a removable 1880mAh battery and a microSD slot to back up the 4GB of storage.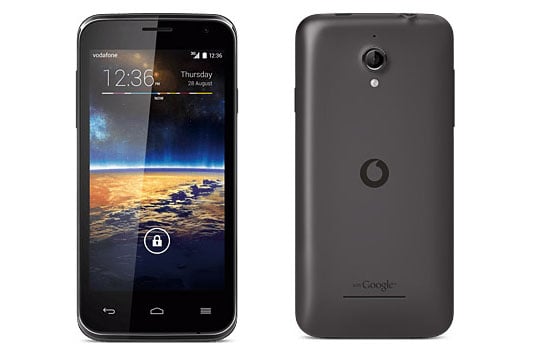 Assembled by Chinese OEM Yulong, it's a svelte, handsome and well made little lump and the only Vodafone branding is a black logo embossed on the rear, so thankfully your friends won't notice you're using a pauper's phone. The humble origins are apparent in use though. It's 3G-only, the AnTuTu score was the lowest in the group, there is the occasional pause in the interface.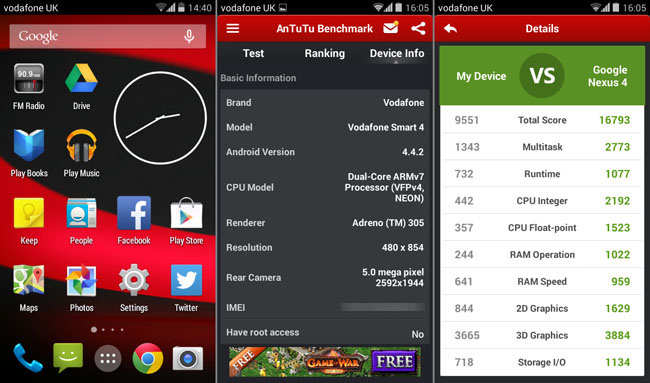 Homescreen and AnTuTu device info and rating – click for a larger image
The screen also leaves something to be desired: it's a basic TFT affair with a lot of chromatic shift in evidence when you tilt the top of the phone towards you. The camera, like that of the Moto E, is a 5Mp fixed-focus affair, so forget grabbing barcodes, but at least there is a LED flash. Surprisingly, for a carrier-branded device, my review sample was network-unlocked and worked a treat with the O2 SIM I slipped into it, while all the usual carrier bloat was easily uninstalled using the Android application manager. ®