Say goodbye to landfill Android: Top 10 cheap 'n' cheerful smartphones
Holiday handsets you can afford to lose
Prestigio Multiphone 5500 Duo

Who? What? My thoughts exactly. But the Prestigio Rainbow – you get four colourful replacement backs in the box – actually isn't a bad old Hector. For £130 you get an unlocked handset with a 5-inch screen, two micro SIM slots, a removable 2,000mAh battery, a decent pair of earphones and a near stock implementation of Android 4.2.2. It's not a bad looking lump either and feels pretty well made.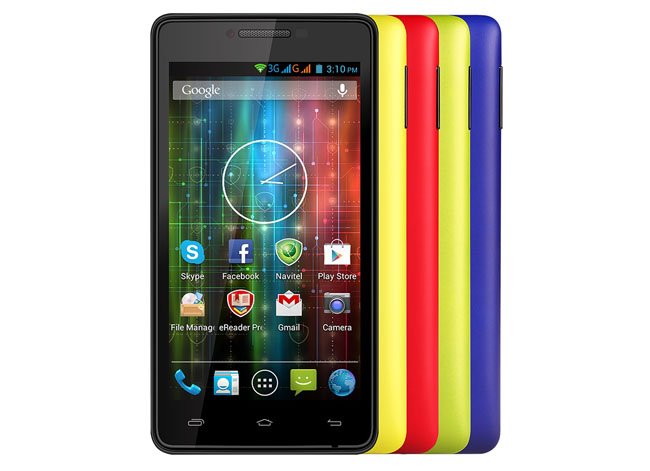 Of course there are downsides. Once I remembered to peel the lens protector off the 5Mp camera, everything looked less green, but the end results were the still the worst here and the same goes for the VGA webcam. The 480 x 854 display leaves a bit to be desired too: it's not the sharpest, washes out at extreme angles and is rather reflective.
The Mediatek MT6572 chipset is rather gutless too, thanks to a dual-core 1.2GHz chip and just 512MB of RAM. It also lacks 4G, NFC and USB host support. You also have to make do with 4GB of storage though there is a micro SD card slot.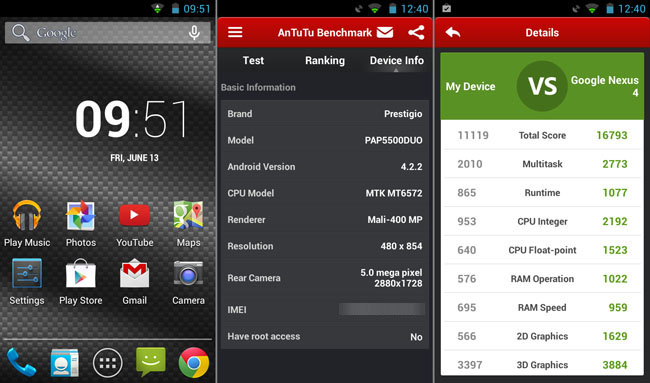 Homescreen and AnTuTu device info and rating – click for a larger image
I'd not recommend the Prestigio for gaming but for everything else it does a solid enough job and the last time I was offered 5 inches for less money I was sitting in a bar in one of the seedier parts of Bangkok. Incidentally, next month Prestigio will launch a Windows Phone 8.1 phone with a 5-inch 720p IPS screen, quad-core CPU and 1GB of RAM for the same price, so it may be worth waiting until we get our hands on one of those for a review.
Samsung Galaxy Ace 3

It seems that Samsung's creative juices have been exhausted; it appears to have basted its flagship, phablet and tablet lines and left nothing for the mid range. The Galaxy Ace 3 isn't actually a bad device, so long as you ignore the 3G version (it's inferior in several key areas) and plump for the 4G model. However, it's nigh-on a year old and in that year a lot has changed. At around £130, it now looks overpriced.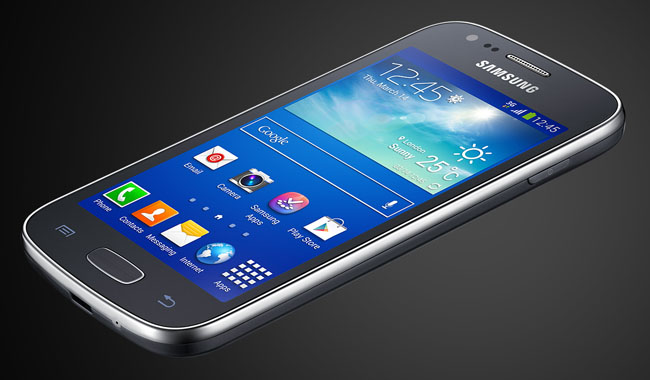 The most obvious failing is the 4-inch 480 x 800 TFT screen, which is decidedly small and low-res compared to others in the field. Thankfully, the internals are a little more competitive, although it lacks an NFC chip and USB hosting. The 1.2GHz dual-core Qualcomm chip has 1GB of RAM available to it, so the UI is reasonably fluid, despite the TouchWiz launcher over Jelly Bean combo. There's also a handy 8GB of storage backed up by a micro SD expansion slot.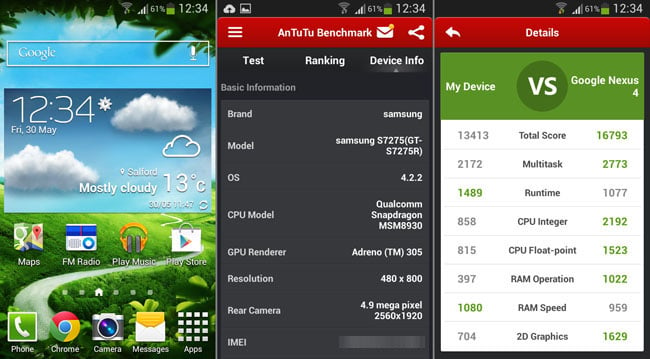 Homescreen and AnTuTu device info and rating – click for a larger image
The 5MP camera isn't too shabby, likewise the VGA webcam and thanks to the low-rent screen the removable 1800mAh battery, it can easily make it through two full days on a charge. It's certainly a big tick in the plus column, as is the highly pocketable shape, size and weight. If it were 50 or so quid cheaper, the Ace 3 would hold its own, but as things stand, it's a decent device rather overwhelmed by the newer, cheaper devices such as the EE Kestrel.