Ex-despot Noriega sues: How dare Call of Duty make me look like, like...
Jailed dictator gets precious over image rights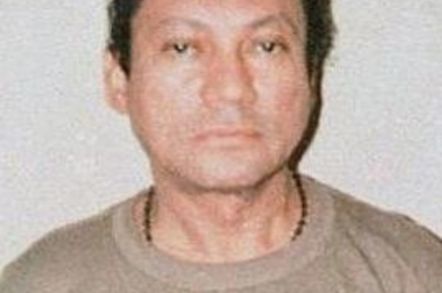 Brutal former Central American dictator Manuel Noriega is mimicking a Hollywood starlet by launching legal proceedings against a computer games designer for using his likeness in a popular franchise.
Noriega is suing Activision for "blatant misuse, unlawful exploitation and misappropriation for economic gain" of his image in Call of Duty: Black Ops II, the latest iteration of the popular war 'em up franchise.
Reformed boozer and one-time movie star Lindsey Lohan recently did the same, suing Rockstar for including a blonde, bikini-clad character in its game Grand Theft Auto V.
Noriega is angry that a man bearing a resemblance to him was used to portray "a kidnapper, murderer and enemy of the state" in Call of Duty, which was released two years ago.
"Plaintiff was portrayed as an antagonist, as the culprit of numerous fictional heinous crimes, creating the false impression that defendants are authorized to use plaintiff's image and likeness," the dictator's legal team alleged in its legal filings, which were submitted on 15 July.
Known as pineapple face for his pockmarked complexion, Noriega tortured and brutalised opponents during a reign of terror. American Navy SEALS eventually snared him in an operation code-named Nifty Package, which involved using psy-op tactics such as blaring out rock music to flush the dictator from his sanctuary in a Vatican embassy.
The former despot is now serving a prison sentence in Panama.
"Noriega isn't a US citizen or even a resident," said Jas Purewal, an interactive entertainment lawyer. "This means that his legal claim becomes questionable, because it's unclear on what legal basis he can actually bring a case against Activision."
Americans enjoy a "right to publicity", he continued, which means they have control over how their image is used commercially.
The game in question also contains a likeness of David Petraeus, a former Central Intelligence Agency chief who left office in late 2012 when he admitted to an extramarital affair.
Activision released the following statement:
"Call of Duty: Black Ops II and its fictional storylines are aimed at providing fun and enjoyment. It is clear to game players that his [Noriega's] character and others that are based on real-life figures are fantasy.
"Including Gen. Petraeus and other real-life figures was strictly a creative decision made many months ago when the storyline was drafted."
The games dev has not commented on Noriega's legal case. ®